AGILIS ACU Serie Quad-Band VSAT al aire libre de Bloque de Bajo Ruido de la Unidad de Control F de Entrada (LNB)
Entrada F (LNB) de unidad de control de bloque de bajo ruido exterior VSAT de cuatro bandas de la serie AGILIS ACU

La unidad de control Agilis ODU (ACU) es una unidad de alto rendimiento y rentable Equipo VSAT diseñado para comunicación por satélite con capacidad de transmisión de alta velocidad adecuado tanto para telefonía como para comunicación de datos de alta velocidad. El ACU se puede operar con diferentes formatos de modulación como BPSK, QPSK y FM. Es adecuado para aplicaciones de un solo operador por canal (SCPC), de múltiples operadores por canal (MCPC), de acceso múltiple asignado por demanda (DAMA) y de acceso múltiple por división de tiempo (TDMA). <
Código: agilisACUF_LNB_Control
AGILIS ACU Series Quad-Band VSAT Outdoor Low Noise Block Control Unit F Input (LNB)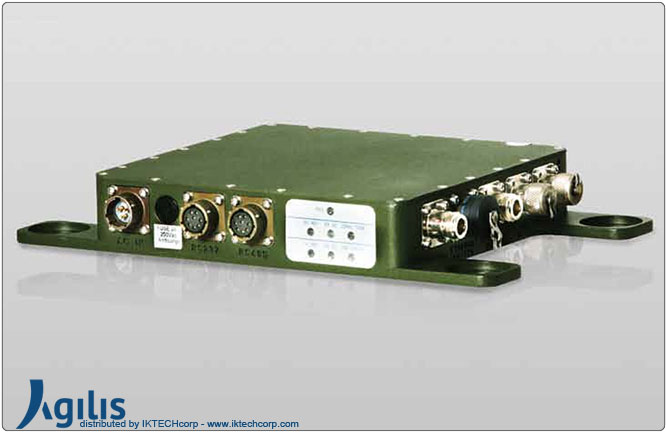 Summary
The Agilis ODU Control Unit (ACU) is a high performance, cost-effective VSAT equipment designed for satellite communication with high speed transmission capability suitable for both telephony and high speed data communication. The ACU can be operated with different modulation formats like BPSK, QPSK and FM. It is suitable for Single Carrier Per Channel (SCPC), Multi-Carrier Per Channel (MCPC), Demand Assigned Multiple Access (DAMA) and Time Division Multiple Access (TDMA) applications.
Features
• Highly reliable
• Compact size and lightweight
• King post/pole mount outdoor unit, IP65 rated
• Selection of DC voltage & 22kHz tone & 10MHz reference to the LNB
• Monitor and control on the LNB through proprietary software
• Comes with L-Band multiplexer for BUC (Optional)
• Internal attenuator and amplifiers for gain and insertion loss adjustment
• High accuracy internal OCXO reference
• Comes with Receive L-Band monitor port
Reliability
Field proven with system deployed worldwide, Agilis LNB control unit can withstand temperature from -40ºC to +60ºC up to 100% humidity.
Quality Assurance
All Agilis ACUs are designed and manufactured according to ISO 9001 Standard.
AGILIS ACU Series Quad-Band VSAT Outdoor Low Noise Block Control Unit F Input (LNB) Specifications
RX L-Band Port Parameters

Frequency

950 ~ 2150MHz

Impedance

75Ω (F-type Female)

VSWR

1.5:1 max
TX L-Band Port Parameters (Optional)

Frequency

950 ~ 2150MHz

Impedance

75Ω (F-type Female)

VSWR

1.5:1 max
Local Oscillator

Conversion Gain RX L-Band IN
to RX L-Band OUT

5dB typ
Conversion Gain RX L-Band IN
to RX L-Band MONITOR
5dB typ

RX L-Band IN to

3.0dB max

RX L-Band OUT

 

RX L-Band IN to RX

3.0dB max

L-Band MONITOR

 

10MHz power level

0dBm typ

Adjustable Attenuation Setting

15dB

Attenuation step size

0.5dB

LNB Control Signal (22kHz Tone)

400-600mV

DC Voltage Supply to LNB

 

At +13V set

13-14V

At +18V set

18-19V

DC Current Supply to LNB

 

At +13V set

600mA max

At +18V set

600mA max

 

Tranmit Transfer Parameters (Optional)
Tranmit Transfer Parameters (Optional)

Insertion loss

3dB max

Full band Gain Flatness

3.0dB max

36MHz Gain Flatness

1.0dB max

10MHz power level

0dBm typ
Environmental

OPERATING TEMPERATURE

-40ºC to +60ºC

RELATIVE HUMIDITY
Up to 95% (Non-condensing)
Power Supply

AC Input Voltage

110~220VAC +/- 10%, 47 ~63Hz

Power Consumption
30W max
Monitor and Control

Interface

RS232 / RS485 and Ethernet SNMP

Monitoring Parameters

LNB Status, LNB Voltage, LNB Tone TX/RX Reference

Control Parameters

RX Attenuation, TX/RX Reference, LNB Voltage, LNB Tone
Mechanical

DIMENSIONS

205L x 190W x 44H mm

WEIGHT

<2kg

Compliance Standard
See Datasheet