AGILIS ALB128 4W Banda Ku VSAT al aire libre de Bloques del Convertidor de N (BUC)
AGILIS ALB128 4W Ku-Band VSAT Outdoor Block-Up Converter N Input (BUC)

El BUC (Block-Up Converter) de banda Ku de la serie ALB128 es un Transmisor de RF exterior para comunicación por satélite. El BUC tiene una linealidad de potencia de salida muy alta y funciona bien desde -40ºC hasta 60ºC. El BUC también tiene un amplio rango de voltaje de entrada que le permite trabajar desde 18V hasta 60V. Agilis Ku-Band BUC está diseñado para un funcionamiento de alta confiabilidad en diversas aplicaciones, como la antena flotante. El BUC también tiene las funciones de M&C más completas de la industria.
Agilis Ku-Band BUC es un diseño compacto que consta de convertidor ascendente, amplificador de potencia de estado sólido, oscilador de bloqueo de fase y convertidor de potencia CC-CC. Emplea una interfaz IF de banda L para la unidad interior. Agilis ALB128 Ku-Band BUC es un diseño ideal adecuado para aplicaciones de banda ancha (como DVB-RCS) en redes IP satelitales.
AGILIS ALB128 4W Ku-Band VSAT Outdoor Block-Up Converter N Input (BUC)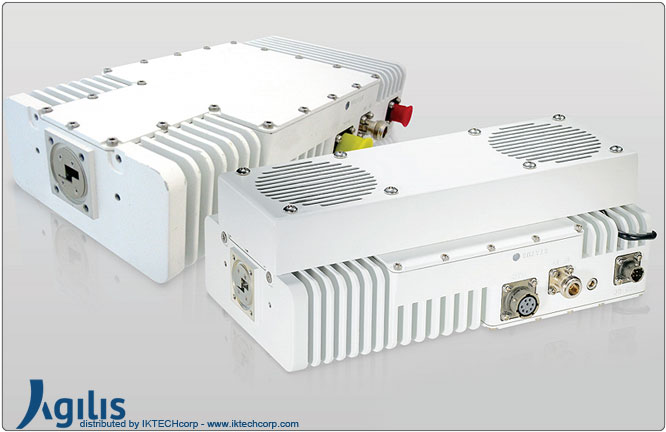 Summary
ALB 128 Series Ku-Band BUC (Block-Up Converter) is a highly cost effective RF outdoor transmitter for satellite communication. The BUC has very high output power linearity and works well from -40ºC up to 60ºC. The BUC also has a wide input voltage range which allows it to work from 18V to 60V. Agilis Ku-Band BUC is designed for high reliability operation in various applications such as flyaway antenna. The BUC also has the most complete M&C features in the industry.  Agilis Ku-Band BUC is a compact design that comprises of Upconverter, Solid State Power Amplifier, Phase Locked Oscillator and DC-DC power converter. It employs L-Band IF interface to the indoor unit. Agilis ALB128 Ku-Band BUC is an ideal design suitable for broadband applications (such as DVB-RCS) in satellite IP networks. 
Features
• Available for all Ku-Band Frequencies
• Direct antenna mount
• Fanless option for 8W
• Wide operating temperature range -40ºC to +60ºC
• Wide input D.C voltage range 18V to 60V 
• Standard RS232/485 interface & optional SNMP/HTTP M&C option
• Excellent linearity
• Extremely reliable
• High power efficiency
• Excellent phase noise characteristics
• Low spurious
• Automatic temperature compensation feature
• RoHS compliant
• Waterproof with IP65 standard
• Easy installation
• Redundancy option 
• LED indicator for BUC status
Monitoring and Control (Optional)
• SSPA on/off Control 
• Automatic gain control with level stability  accuracy better than ± 0.5dB
• Adjustable gain
• Temperature sensor reading
• LO unlocked alarm
• Input power detection
• Output power detection
• SNMP/Ethernet (Optional)
Reliability
Field proven under harsh environment conditions, Agilis ODUs can withstand temperature ranging from -40ºC to +60ºC with up to 100% humidity.
Quality Assurance
All Agilis ODUs go through intensive active electrical stress screening with performance being monitored during screening. In addition, all units undergo 100% waterproof test equivalent to IP65 to ensure normal operation in tropical, cold and harsh environments.
AGILIS ALB128 4W Ku-Band VSAT Outdoor Block-Up Converter N Input (BUC) Specifications
Frequency Range
| | | | |
| --- | --- | --- | --- |
|   | Output (GHz) | Input (MHz) | LO (GHz) |
| Standard | 14.00 to 14.50 | 950 to 1450 | 13.05 |
| O  set | 13.75 to 14.25 | 950 to 1450 | 12.80 |
| Extended | 13.75 to 14.50 | 950 to 1700 | 12.80 |
| Low | 13.00 to 13.25 | 950 to 1200 | 12.05 |
| Plan | 12.75 to 13.25 | 950 to 1450 | 11.80 |
| High | 14.50 to 14.80 | 1000 to 1300 | 13.50 |
Transmit
Power
Output P1dB
Gain(dB)
Power Consumption
 
(dBm) min
 
(Typ)
(Max)

4W

36

61 - 69

45W

52W

6W

37.8

62 - 70

58W

62W

8W

39

64 - 72

80W

85W
| | |
| --- | --- |
| Input Power @P1dB Output | - 25dBm |
| Gain Flatness for Full BW | ±2.0dB max |
| Gain Stability Over Temperature | ±2.0dB max |
| Spurious @P1dB Output | -55dBc max |
| Phase Noise  |   |
| @ 100Hz o  set | -63dBc/Hz max |
| @ 1kHz o  set | -73dBc/Hz max |
| @ 10kHz o  set | -83dBc/Hz max |
| @ 100kHz o  set | -93dBc/Hz max |
| Intermodulation Product (with 2 carriers, 2MHz apart, at 6dB backo  from Output @ Prated) | -27dBc max |
| Frequency Inversion | Non-inverted |
| Input VSWR | 2.0:1 max |
| Output VSWR | 2:0:1 max |
| IF Input Interface | 50ohm N-Type Female/75Ohms F-type Female (optional) |
| Output Interface | WR 75G |
| Current @ 24V DC input voltage | 2.2A max (for 4W) |
|   | 2.6A max (for 6W) |
|   | 3.6A max (for 8W) |
Monitor and Control (Optional)

Monitor

BUC temperature

 

LO unlocked alarm

 

Status alarm

 

RF Input and RF Output Power

 
LED status indicator
Control

Adjustable gain with 0.5dB step size, RF output mute

Interface

RS232/485

Optional

SNMP/Ethernet
Power Supply Requirement

DC Input Voltage for BUC 4W, 6W & 8W

+18VDC to +60VDC

Power Supply Interface

Common input via IFL (N-type connector/ F-type Female connector)
Mechanical

Dimensions

282L x 140W x 60H mm / 11.1L x 5.5W x 2.4H in [4W / 6W / 8W (Fanless)]

 

282L x 140W x 98H mm / 11.1L x 5.5W x 3.9H in (8W)

Weight
3.7kg / 8.2lbs [4W / 6W / 8W (Fanless)] 4.2kg / 9.3lbs (8W)

Colour

White Powder Coat
Compliance Standard
Inquire