AGILIS ALB110 5W Ka-диапазон VSAT Outdoor Block-Up Converter N Input (BUC)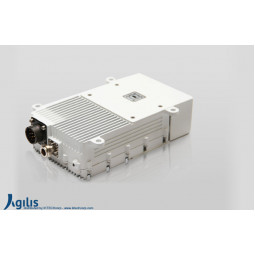 AGILIS ALB110 5 Вт Ka-Band VSAT внешний блокирующий преобразователь N вход (BUC)

Agilis ALB110 2W Ka-Band BUC (преобразователь блочного типа) стоит очень дорого. эффективный наружный радиопередатчик для спутниковой связи. Этот небольшой и легкий новый Ka-Band BUC идеально подходит для мобильных и спутниковых приложений восходящей связи. Разработанный для установки на рупор питания, BUC имеет отличный КПД и потребляет менее 80 Вт для BUC в Ka-диапазоне 5 Вт. Устройство работает от источника постоянного тока с широким диапазоном входных напряжений от 18 до 50 В. Инновационная и эффективная тепловая конструкция делает этот BUC одним из самых маленьких,
AGILIS ALB110 5W Ka-Band VSAT Outdoor Block-Up Converter N Input (BUC)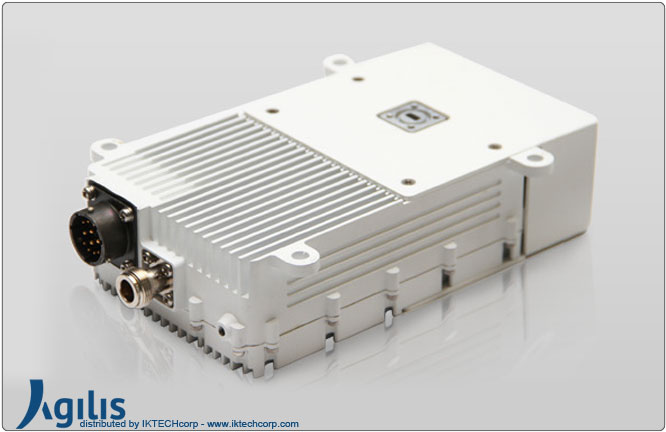 Summary
This small and light weight new Ka-Band BUC is ideal for mobile and satellite uplink applications. Designed to be mounted on the feed horn, the BUC has excellent efficiency and consumes less than 80W for 5W Ka-Band BUC. The unit works on a wide range input DC power supply from 18V to 50V. Innovative and efficient thermal design makes this BUC one of the smallest, lightest and most reliable in the industry. With redundancy-ready feature, the unit can be easily configured to work in 1:1 redundant mode.
Features
• Compact and lightweight
• Feed mountable
• Excellent linearity
• Extremely reliable
• High power efficiency
• Excellent phase noise characteristics
• Low spurious
• Forward power detection function
• Remote monitor & control through
RS232/RS485 and Ethernet (SNMP & HTTP)
• Wide input DC voltage range
• Automatic fault identification & alarm generation
• Automatic temperature compensation feature
• Redundancy option
• Wide operating temperature range -40ºC to +60ºC
• RoHS compliant
• Waterproof
• LED indicator for BUC status
Reliability
Field proven under harsh environment conditions, Agilis ODUs can withstand temperature ranging from -40ºC to +60ºC with up to 100% humidity.
Quality Assurance
100% of all BUCs go through stringent quality checks in addition to well defined Electrical Stress Screening to ensure operation in harsh outdoor environments. The BUCs are also subjected to seal test for water ingress verification.
AGILIS ALB110 5W Ka-Band VSAT Outdoor Block-Up Converter N Input (BUC) Specifications
RF Specifications

Transmit Frequency

29GHz to 30GHz

IF Frequency Range

950MHz to 1950MHz

L.O Frequency

28.05GHz

Output Power @ P1dB

37dBm (5W)

Small Signal Gain

62dB (min for 5W)

Gain Flatness

±2dB over the O/P frequency band

Gain Variation

±2dB over the operating temperature range

Inter Modulation

-25dBc @ Relative to combine power of two carriers at 3dB total power backoff from Rated Output power

Phase Noise @ Offset

 

1KHz

-75dBc/Hz max

10KHz

-85dBc/Hz max

100KHz

-95dBc/Hz max

I/P VSWR

1.5:1 max

O/P VSWR

2.0:1 max
DC Power

Prime Power

48VDC (range 18 to 50VDC)

Power Consumption

60W @ 48VDC input (max for 5W)
Interfaces

IF Input Interface

50Ohms N-type Female / 75Ohms F-type Female (optional)

Output Interface

WR28 grooved
External Reference Requirement

Frequency
50 MHz
Power
-5dBm to +5dBm
External reference phase
noise requirement @ frequency offset
 

1KHz

-150dBc/Hz

10KHz

-155dBc/Hz

100KHz

-160dBc/Hz
Monitor & Control

Monitor

BUC temperature

 

LO unlocked alarm

 

Status alarm

 

RF Output Power detection

 

LED indication

Control

Adjustable gain with 0.5dB step size, RF output mute

Interface

RS232/RS485, Ethernet (SNMP & HTTP)

Tx Redundancy

Redundancy-ready (with external RCU)
Environmental

Operating Voltage

-40ºC to +60ºC

Power Supply Interface

Up to 100% Weather protection sealed to IP65
Mechanical

Size

185L x 100W x 51H mm / 7.3 x 3.9 x 2 in

Weight

1.5kg / 3.3lbs

Color

White Powder Coat
Compliance Standard
See Datasheet