Skyware 1,2m NPRM 73mm Non-Penetrating Roof Mount for 96cm, 1,0m, and 1,2m antennas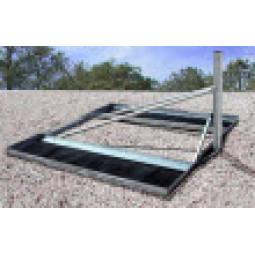 The Skyware Global Model 611006304 commercial non-penetrating roof mount has been specifically designed for our line of antennas from 96 cm to 1.2 m. Mechanically tested and field proven, this mount provides the performance necessary for demanding transmit applications.
Product Code: 1.2m NPRM Non-Penetrating Roof Mount
The non-penetrating roof mount is designed to be used on a flat roof and has provisions for concrete block ballast. The mount components are pre-galvanized steel with plated, polymer-coated hardware for excellent corrosion resistance.
For installations up to 125 mph survival.
Includes rubber roof pads.
Tray type mount. Use cored or solid blocks.
Ballast tailored to site requirements.
UPS shippable single carton packaging.
Pre-galvanized construction.
500 hour salt spray hardware.
All materials comply with EU directive No. 2002/95/EC (RoHS).