C-com satellite systems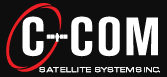 Established in 1997, C-COM Satellite Systems Inc. is a leader in the development and deployment of vehicle mounted antennas, auto-deploy antennas and other VSAT technology for the delivery of 2-way high-speed, mobile satellite communications into vehicles or other transportable structures.
C-COM has developed a number of proprietary mobile self-pointing, auto deploy antennas that (while stationary) allows the delivery of broadband satellite communication services into mobile environments virtually anywhere where you can drive, whether for Emergency use (Data, Voice and Video) or Professional use (like SNG – Satellite News Gathering, Oil and Gas Production and Remote Offices).
iNetVu® is a registered trademark of C-COM Satellite Systems Inc.
C-COM Satellite Systems Board Of Directors
The company is governed by a Board of Directors comprised of four people. Current members of the Board of Directors (BoD) are:
Dr. Leslie Klein, Ph.D.,P.Eng.
Mr. Eli Fathi
Dr. Arunas Slekys
Mr. Ronald Leslie
C-COM Satellite Systems' Awards
When it comes to delivering high-quality, cost-effective solutions for Mobile Satcom (Satellite Communication) applications across the globe, C-COM provides world class, innovative solutions to its customers. C-COM has merited a series of awards and recognition for excellence in business and technology.
iNetVu® Testimonials
Here are examples of what our customers have to say about our products and support. You'll notice many enthusiastic comments about customer experience with the iNetVu®, which is no surprise to us, because we emphasize customer satisfaction right from the product development stage.
Refine Search
Default

Name (A - Z)

Name (Z - A)

Price (Low > High)

Price (High > Low)

Model (A - Z)

Model (Z - A)
Default
Showing 1 to 15 of 45 (3 Pages)