Quintech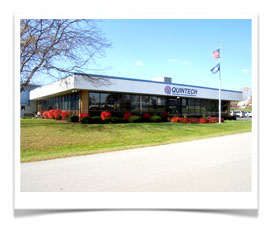 Quintech designs and manufactures state-of-the-art proprietary hardware solutions (DC to 40 GHz) to facilitate RF signal management for satellite, uplink and downlink applications in satellite teleports, cable, HFC headends, broadcast, wireless and military telecommunications networks. Quintech specializes in commercial-grade RF/microwave products for broadband, cable, satellite, L-band and intermediate frequency.
Quintech Electronics and Communications Inc. was incorporated in Indiana, Pennsylvania in 1989. The business was based on a foundation of proprietary technology and over 120 years of combined technical expertise in terrestrial microwave, CATV, and satellite communications.
Quintech has been "The Source for Reliable RF (Radio Frequency) Signal Management Solutions" serving the cable, satellite and broadcast industries. Quintech products are vital and necessary for RF signal management, optimizing the automation of today's advanced telecommunication network infrastructures.
Quintech has historically emphasized the design and development of customer driven RF signal management solutions in order to facilitate the convergence of modern telephony, broadcast, satellite and cable/HFC networks. Quintech products are used in most major telecommunications networks worldwide.
In 2008 Quintech established an R&D office at the UPARC campus in Harmar, PA.
The purpose of the new office will be to move the company's research and development activities closer to engineering and technological talent available in the greater Pittsburgh area. The Company looks to expand relationships with knowledge and educational institutions such as the University of Pittsburgh, CMU, Penn State New Kensington and Indiana University of Pennsylvania, North Pointe campus.
Default

Name (A - Z)

Name (Z - A)

Price (Low > High)

Price (High > Low)

Model (A - Z)

Model (Z - A)
Default
Showing 1 to 15 of 57 (4 Pages)