Geosat TempAlert Ultimate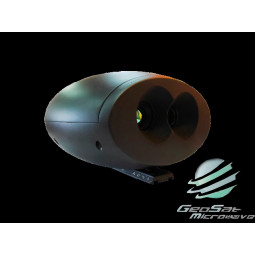 Thermal and optical Bi-spectrum with facial recognition;
Built-in high accurace thermal infrared module, temperature detection range 35C-42C, Precision +- 0.3C;
Face Detection speed: <300ms;
Face Capacity: Max. 50,000 face storage;
Resolution 1920 x 1080P (highest in its class);
8 inch LCD screen, 2MP wide-angle dual lens;
Product Code: TempAlert Ultimate
Its Infrared Thermal Imager Detector selects Aviation-grade large target surface. Use Visible Image Fusion Technology to convert and match precisely the Visible Light and Infrared Image. The Recognition Algorithm is optimized for the wearing state of the Mask, which can intelligently detect the effective area Temperature.
When a person's temperature is found exceeding 37.2℃. The Automatic Alarm is triggered. Meanwhile the Ultimate version has Face Recognition, which could identify the name of the person in the record database. 'Temp Alert' system is greatly improved on temperature screening efficiency and effectively reducing the risk of cross infection.
It is an Intelligent Security and Epidemic Prevention Monitoring System that integrates Visible Light band, Infrared Band, Temperature Measurement Function, Face Detection Function, Face Recognition Function and Face with Mask Recognition Function.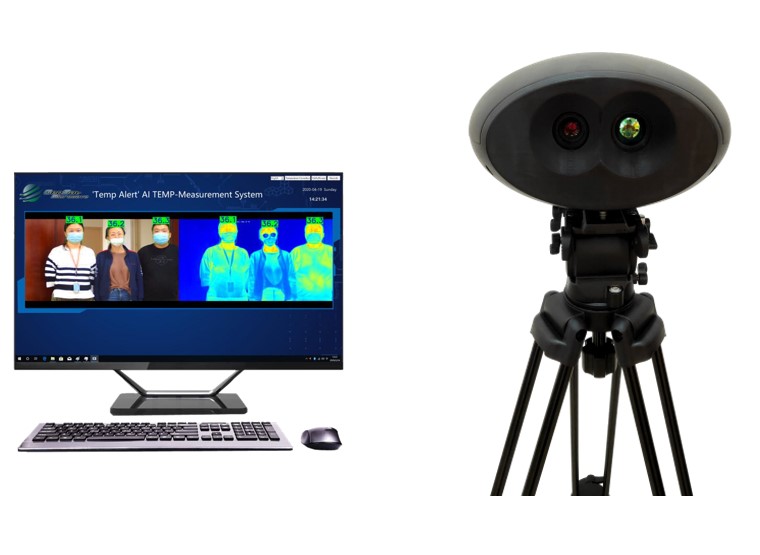 Working Principle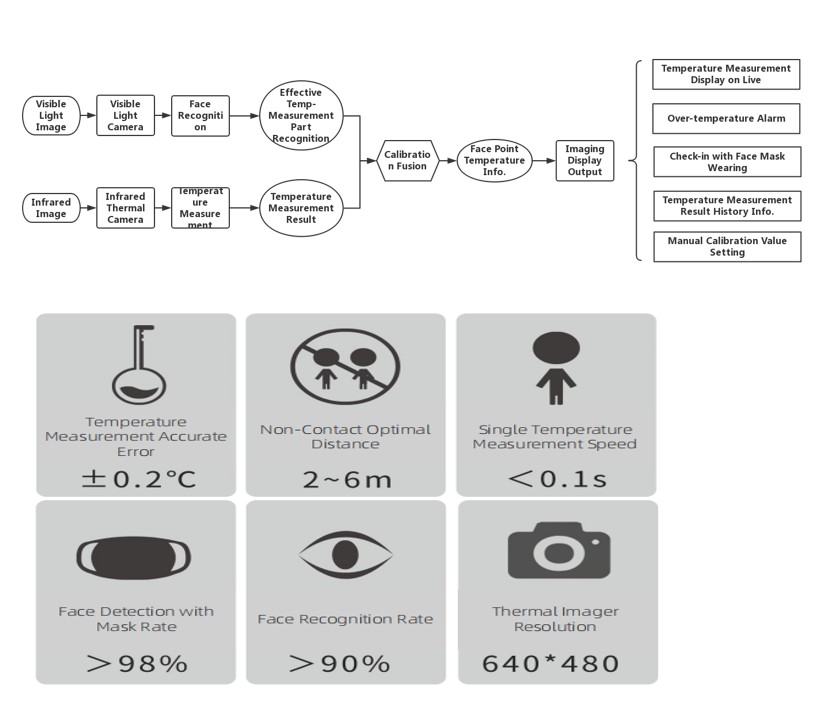 Dimensions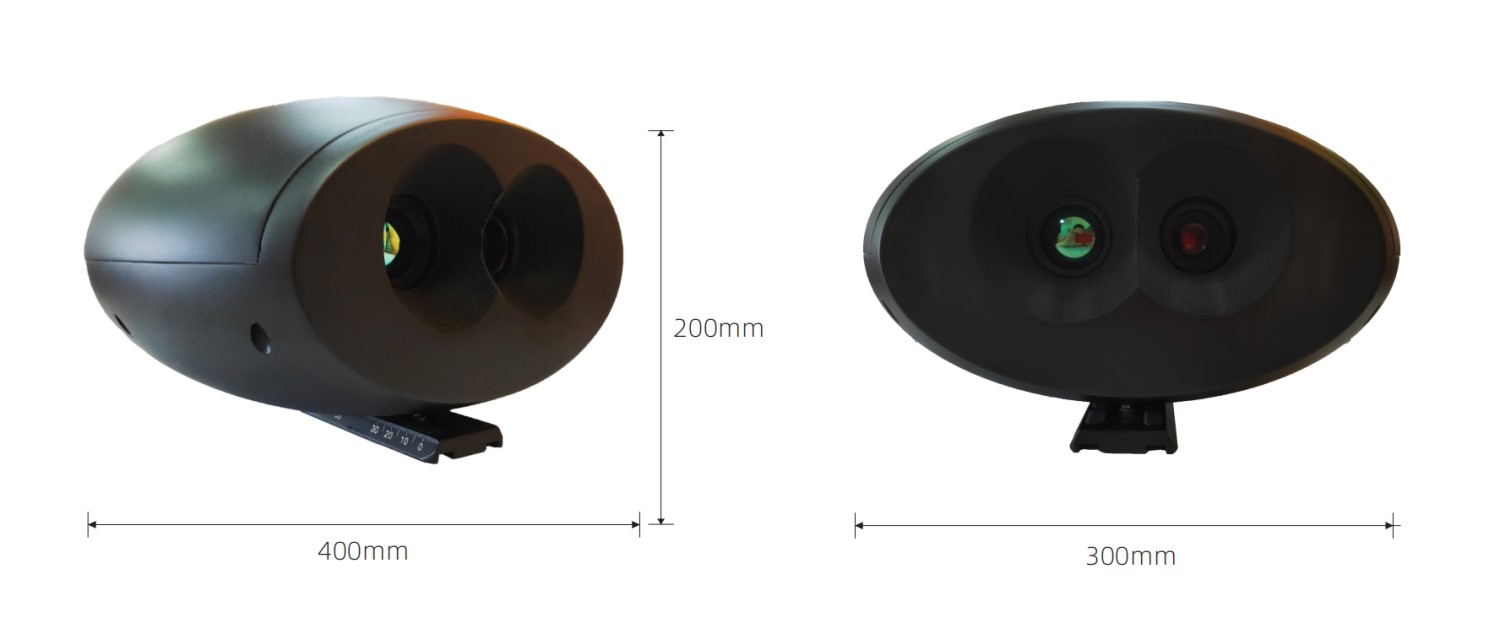 Applications

Adapt To Temperature Measurement Needs In Densely Populated Areas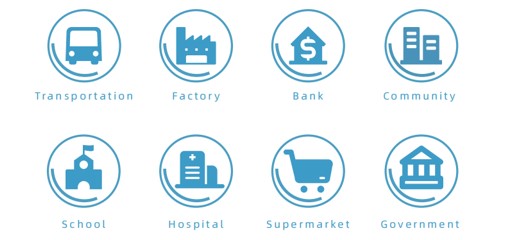 Therrmal Module

Image Sensor

Uncooled infrared focal plane detector

Max. Resolution

640×480

Pixel Interval

17μm

Response Waveband

8 μm to 14 μm

Frame Rate

60Hz

NETD (Noise Equivalent Temperature Difference)

≤ 50 mk (@25 °C)

Lens (Focal Length)

25mm

Field of View

32°×24° (H × V)

Aperture

F 1.0

Optical Module

Max. Image Resolution

1920×1080

Image Sensor

1/2.7" Progressive Scan CMOS

Min. Illumination

Color: 0.045 Lux

Lens (Focal Length)

9-22mm(Manual Focusing)

Field of View

16-38°(diagonal)

Signal to Noise Ratio

39 dB

Image Function

Bi-spectrum Image Fusion

Dual-Spectrum Fusion to determine Temperature Measurement Position

Picture in Picture

Visible and Infrared Light Images are Displayed Left and Right

Smart Function

Temperature Measurement

Face Rapture, Smart Forehead Temperature Measurement

Temperature Range

30°C to +45 °C

Temperature Accuracy

±0.2℃

Face Detection with Mask

Rate >98%

Face Recognition

Rate

>

90%

Video Output

Main Stream

Visible Light: 50Hz: 25fps (1920 × 1080)

Visible Light: 60Hz: 30fps (1920 × 1080)

Thermal: 1280 × 720

Video Compression

H.264/MJPEG

Protocols

Optical: USB 2.0-OTG
Thermal: RTSP

Simultaneous Live View

Up to 20

Integration

Alarm Input

Over-temperature Alarm

Alarm Output

Manually Calibrated

Alarm Action

Audio Alarm(Extensible)

SD Memory Card

Hard Disk Storage

Client

Temp Alert

General

Menu language

6 languages

English, Russian, Arabic, German, Spanish, Simplified Chinese

Power

Optical: 12 VDC ± 20%

Thermal: 5VDC USB Power

Power Consumption

Optical: up to 15W

Thermal: up to 2W

Working Temperature/Humidity

Temperature: 0 °C to 40 °C(Indoor and windless environment use only)

Humidity: 95% or less

Dimensions

400mm × 300mm × 200mm (L × W× H)

Weight

Approx. 2.55 kg

Thread Connection

1/4 Thread Connection

Running Computer (Minimum Configuration)

Operating System

Windows10

Processor

Intel i5-6260U

SSD

480G SSD

RAM

8G DDR4

GPU

Intel UHD Graphics 630

Network

1000Mbps

USB

USB3.0×4 USB2.0×2