Quintech LC 1000 Active Combiners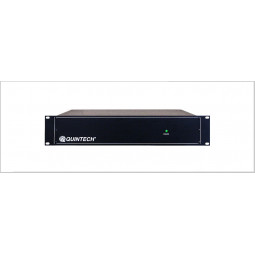 • Convenient, centralized rack mount designs improve cable management
• Microstrip design provides better performance and reliability
• Larger configurations eliminate cascaded combiners for better performance.
• Active (zero loss) combiners allow for ease in RF budget design
• Custom configurations for optimization of rack space and increased flexibility
• Greatly improves cable management and aesthetics by allowing for easy access to cable routing and easing identification of cabling
• Reduces cable connector failures by eliminating the need for frequent manual connects/disconnects
Product Code: Quintech lc 1000
The LC 1000A series is a commercial quality line of (5-1000 MHz) broadband RF combiner that meet strict level, match, and loss specifications achieved through the use of Quintech's proprietary microstrip and SMT technology. "Zero" loss and custom configurations available.

| | | | |
| --- | --- | --- | --- |
| Specifications:* | LC16 1000A | LC32 1000A | LC64 1000A |
| Operating Frequency: | 5-1000 MHz | 5-1000 MHz | 5-1000 MHz |
| Configurations: | 1x16 | 1x32 | 1x64 |
| Impedance: | 75 Ω 50 Ω | 75 Ω 50 Ω | 75 Ω 50 Ω |
| P1dB: | +8 dBm Each Input | +1 dBm Each Input (Single Carrier Equiv.) | - 2.0 dBm Each Input |
| Insertion Loss: | 0 ± 2 dB @ 500 MHz | 0 ± 2 dB @ 500 MHz | 0 ± 2 dB @ 500 MHz |
| Frequency Response: | ± 2.5 dB | ± 2.5 dB | ± 2.5 dB |
| Isolation: | 16 dB | 16 dB | 20 dB |
| Input Return Loss: | 14 dB | 12 dB | 17 dB |
| Output Return Loss: | 7 dB | 12 dB | 12 dB |
| RF Connectors: | F-Type, BNC 75 Ω | F-Type, BNC 75 Ω | F-Type, BNC 75 Ω |
| Power Requirements: | 18-24 VDC Via 2-Pin Quick Connect Barrier Strip | 18-24 VDC Via 2-Pin Quick Connect Barrier Strip | 18-24 VDC Via 2-Pin Quick Connect Barrier Strip |
| Power Consumption: | 14 W | 17 W | 24 W |
| Mechanical: | 1 RU: 1.75" H x 19" W x 6.5" D | 2 RU: 3.5" H x 19" W x 14" D | 3 RU: 5.25" H x 19" W x 20" D |