Skyware 2,4m Type 243 C or Ku-Band Receive Only Offset Antenna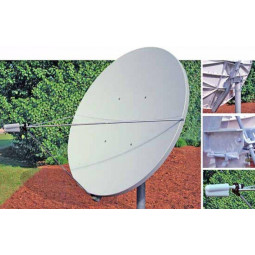 The Skyware Global 2.4 m Type 243 Offset Recieve-Only Antenna is a rugged commercial grade product suitable for the most demanding applications. The reflector is thermoset-molded for strength and surface accuracy. Molded into the rear of the reflector is a network of support ribs which not only strengthens the antenna, but also helps to sustain its critical parabolic shape.
Product Code: 2.4m Type 243 C or Ku-Band Receive Only Offset Antenna
The Az/EI mount is constructed from heavy-gauge steel to provide a rigid support to the reflector. The Az/EI mount secures the antenna to any 168 mm (6.63") O.D. mast and prevents slippage in high winds.A specially formulated powder paint process offers excellent protection from weather-related corrosion.
All materials comply with EU directive No. 2002/95/EC (RoHS).
One-piece thermoset-molded offset reflector.
Fine azimuth and elevation adjustments.
Galvanized 19 mm (.75") O.D. feed support legs.
Factory pre-assembled Az/EI mount.
Plated hardware for maximum corrosion resistance.
Available with a wide variety of C-band or Ku-band feeds.