Skyware 2,4m type 244 Ku-Band Dual Optics Offset Antenna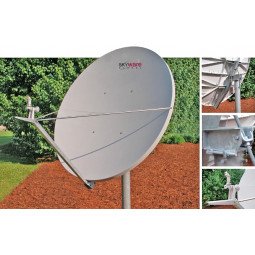 The Skyware Global Type 244 2.4 m Dual Optics RxTx Antenna is a rugged commercial grade product suitable for the most demanding applications. The dual optics design provides the superior cross-pol discrimination demanded for optimum performance on the Eutelsat satellite system.
Product Code: 2.4m type 244 Ku-Band Dual Optics Offset Antenna
The reflector is thermoset-molded for strength and surface accuracy. Molded into the rear of the reflector is a network of support ribs which strengthens and helps to maintain the parabolic shape necessary for transmit performance. The heavy-gauge steel Az/EI provides a rigid support to the reflector and feed support arm. Heavy-duty lock-down bolts secure the mount to any 168 mm (6.63") O.D. mast and prevents slippage in high wind. Hot-dip galvanizing is standard on this model for maximum environmental protection.
All materials comply with EU directive No. 2002/95/EC (RoHS).
ETSI certified.
Dual Optics design for ultra low cross-polarization.
Two-piece precision offset thermoset-molded reflector.
Heavy-duty galvanized Az/EI mount.
Fine Azimuth and elevation adjustments.
Plated hardware for maximum corrosion resistance.
Includes Ku-band feed assembly and
precision aluminum sub-reflector.