SpaceBridge C8000 All-Outdoor Ka or Ku Integrated Broadband Terminal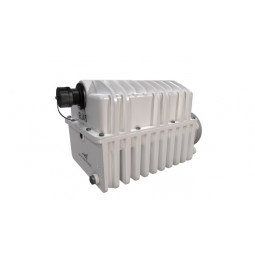 Mass market consumer broadband Internet.
Rural Internet access.
High throughput M2M/IIoT links or IoT aggregation links
Fully integrated all-outdoor satellite terminal – antenna feed system, Ka or Ku transmitter and receiver and satellite VSAT router – all housed in a small-sized weatherized outdoor enclosure. The all-outdoor terminal weight and size reduction allows for versatile installation options.
Simpler Installation than Ever
The all-outdoor terminal uses a single-cable installation to the indoor equipment – drastically simplifying installation. The compact terminals also support DIY / self-installation and commissioning making the entire installation process easier and affordable than ever.