SpaceBridge U7400-C4 Telecom 3G/4G Cellular Backhaul/Trunking VSAT Router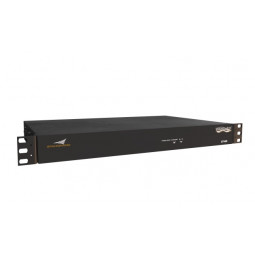 Built-in GTP Optimization 3G/4G LTE traffic optimization saving about 30% satellite bandwidth, improving user experience by shortening transfer times by approx~ 40%.
Quick and unlimited cellular coverage deployment anywhere on the globe.
Vast deployment flexibly,supports hub-less point-to-point deployments as well as ASAT™ System hub-spoke.
Start small with point-to-point SCPC links and grow to large hub-spoke MF-TDMA/SCPC network.
WaveSwitch™ hub-spoke multi-waveform support: Automatic on-the-fly MF-TDMA/SCPC Return Link switching, based on application, traffic density and scheduled triggers.
SCPC Return Link dynamic channel adaptation to meet traffic demand while conserving satellite bandwidth.
Real-time waveform switching provides real savings for applications seeing drastic traffic density changes such as cellular backhaul and trunk.
Layer-2 and Layer-3 support for easy satellite transport integration with the cellular RAN.