SpaceBridge AMT75E DVB-S/S2 High Speed Broadcast Modem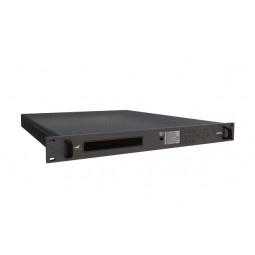 AMT75E by SpaceBridge is a multi-purpose High-Speed Satellite modem which is a particularly versatile and effective solution for any broadcast environment.
The emergence of HD and 3D content demands more data and the AMT75E handles all higher DVB-S2 modulation schemes. The AMT75E achieves a Bandwidth-efficient transmission, from 30% to 150% gain when compared to the old DVB-S performance. When compared with the old FEC coding, the LDPC (Low-Density Parity Check) and BCH (BoseChaudhuri-Hocquenghem) coding is known to be far more
robust, giving a performance as close as 0.7 dB from the famous Shannon limit. In practice, this means your capital investment is significantly reduced due to the decreased bandwidth requirements.