GDST-1385-3420 GD Satcom 1385 Series 3,8M C-Band Linear Antenna System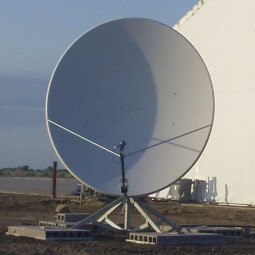 Typical application: TDMA, SCPC, VSAT, Video
Antenna assembly hardware: included
Installation level of difficulty: medium
Assembly time: 2-3 person, 2-4 hours
Tools required: torque wrench, large pipe wrench, breaker bar, step ladders
Product Code: GDST-1385-3420
The General Dynamics 1385 series antenna sits in a class of its own as one of the largest VSAT antenna available on the market. This antenna is ideally suited for hubs, gateways, high throughput data and video uplinks and is a staff favorite at Satcom Resources. The four-piece SMC reflector is precision manufactured for high-efficiency C-Band operation. The Az/El cap comes fully assembled and features fine azimuth and elevation adjustments to dial in and optimize your satellite signal. The Az/El mount is constructed from heavy gauge, pre-galvanized steel for strength and corrosion resistance. An C-Band linear cross pol Rx/Tx feed comes standard with the Series 1385 Antenna.
The 1385 features a four-piece reflector that reduces size and packaging to economize shipping. The reflector petals are designed to be "self-aligning" in the field and require no special tools. The 1385 is a very stout antenna system with a very robust reflector and feed support. For RF integration, this antenna system can support up to 20 lbs. directly on the feed or up to 80 lbs. on the center boom with the addition of the feed stabilizer support arm which makes it ideal for higher power transmit applications. The feed mount bracket allows for feed rotation to set your required polarity and the feed collar can be tightened down to lock the feed position in place.
Product Description: - Antenna Size: 3.8M

- Antenna Optics: Prime Focus, Offset Feed, Four-piece reflector
- Reflector Material: Glass Fiber Reinforced Polyester SMC
- Mount Type: Elevation over Azimuth
- Mast Pipe Size: 10" SCH 40 Pipe (10.75" OD) 27.3 cm.
- Tx Operating Frequency: 5.845 - 6.425 GHz - Rx Operating Frequency: 3.625 - 4.20 GHz - Polarization: Linear Cross Pol - Feed Interface: WR137 Waveguide Flange

- OMT/TRF, Tier 2 Feed Support