GD Satcom 1385 Series 3.8m Ku-Band Tx/Rx Antenna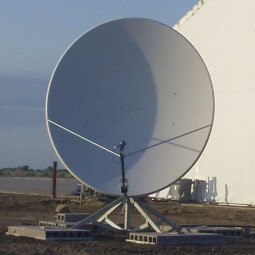 Typical application: TDMA, SCPC, VSAT, Video
Tx Operating Frequency: 13.75 - 14.5 GHz
Rx Operating Frequency: 10.95 - 12.75 GHz
OMT/TRF, Tier 2 Feed Support

Product Code: GDST-1385-3210.KIT
The GD Satcom 1385 3.8M Tx/Rx Antenna has been designed to provide a reliable, long-life and trouble free antenna solution for demanding applications in the primary VSAT communications bands. Enhancements to this antenna design have improved the structural stability and surface tolerances of the reflector, offering growth potential for reliable communications up to Ka-band.
Product Description: - Antenna Size: 3.8M

- Antenna Optics: Prime Focus, Offset Feed, Four-piece reflector
- Reflector Material: Glass Fiber Reinforced Polyester SMC
- Mount Type: Elevation over Azimuth
- Mast Pipe Size: 10" SCH 40 Pipe (10.75" OD) 27.3 cm.
- Tx Operating Frequency: 13.75 - 14.5 GHz - Rx Operating Frequency: 10.95 - 12.75 GHz - Polarization: Linear Cross Pol - Feed Interface: WR75 Waveguide Flange

- OMT/TRF, Tier 2 Feed Support