MFC-17600-(Fo) Microwave C-Band Single Transponder Bandpass Filter Model 17600-(Fo)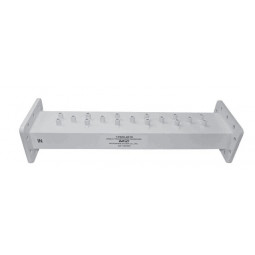 Center Frequency (Fo)
Option: 3400-4200 MHz
Passband: Fo ± 18 MHz
Passband Loss: 1.0 dB Max
VSWR: 1.5:1 Max
Rejection: 20 dB Typ.± 30 MHz from Fo
Product Code: MFC-17600-(Fo)
This narrow band bandpass filter prevents undesired signals operating within the C-band from interfering with C-band single transponder
reception that wider, full band bandpass filters cannot prevent.
Example :
WiMAX transmitting at 3710 MHz interferes with transponder 2 (3722-3758 MHz).
A full band bandpass filter would receive all frequencies between (3700-4200) MHz - including that undesired WiMAX signal, while a narrow band model 17600-3740 filter - receiving only transponder 2 - would typically provide 20dB rejection of that same WiMax signal.
Available for all Standard, Extended and Super-Extended C-Band transponders.
Alternate Flange Configurations are available upon request.