WMAT-80 Work Microwave AT-80 Wideband Modulator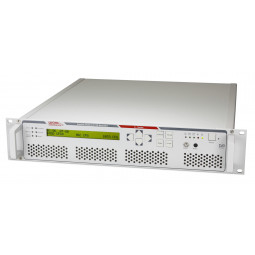 DVB-S2X - ETSI EN 302 307-2
DVB-S2 - ETSI EN 302 307-1
DVB-S2X modulations: QPSK to 256APSK; normal, short, linear
DVB-S2 modulations: QPSK to 32APSK; normal, short
Annex M Time-slicing
Symbol rates up to 500 Msps
The A-Series is a next generation FPGA-based family of satellite modem, modulator and demodulator platforms. The AX-80 product line is based on a powerful architecture that supports the new DVB-S2X standard for ultra-wideband transponders up to 500 Msps. DVB-S2X features include higher modulation schemes up to 256APSK, a finer granularity of ModCods and advanced filtering.
Beyond DVB-S2X, the AX-80 platform can be extended to customized waveforms and user-defined data processing. Through an all-IP structure, the platform supports both native network operation as well as data streaming over IP. Built-in encapsulators and decapsulators provide support for the standard formats, such as GSE and MPE plus specialized streaming like transparent baseband data, raw IQ information, space data formats and more.
A-Series devices are based on a new processing architecture that offers signal based advancements, a flexible software platform and improved access from monitoring and control to the transmission parameters. This allows direct real-time monitoring and quick adaptation to specific customer requirements. Scalable hardware ensures that operators can serve all applications from very low up to extremely high throughput.