WMSK-DV Work Microwave DaVid Modem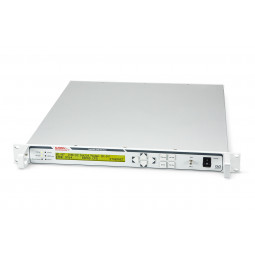 DVB Carrier ID - ETSI TS 103 129
Broadcast Predistortion including automatic group delay and dynamic constellation predistortion for QPSK and 8PSK (option XB)
Extended Predistortion including automatic group delay and static constellation predistortion up to 32APSK (option XE)
Normal and short FEC frames, pilots on or off (DVB-S2)
Physical layer framing with scrambling codes 0 to 262141 according to DVB-S2 standard
Symbol rates from 500 ksps to 80 Msps
Roll-Off: 35 %, 25 %, 20 %, 15 %, 10 %, 5 %
Adjustable digital gain slope equalizer
Low spurious output
WORK Microwave's high-speed DVB-S2 IP modem SK-IP provides operators with a platform for transferring IP/Ethernet data over DVB-S2 satellite connections. Ethernet frames and IP packets are encapsulated directly within DVB-S2 baseband frames, resulting in low encapsulation overhead.
In order to achieve speeds up to 356 Mbit/s, only the fastest and most bandwidth efficient encapsulation and modulation parameters are supported. For maximum bandwidth efficiency and ease of operation the device uses Generic Stream Encapsulation according to TS 102 606 and Multiprotocol Encapsulation according to EN 301 192.
The modem SK-TS is used for transmitting and receiving signals as MPEG transport streams. DVB-S as well as DVB-S2 modulation types are supported.
DaVid technology
Utilizing DaVid technology, WORK Microwave's DVB-S2 Modem SK-DV system offers simultaneous transportation of IP data (i.e., network connection) and live broadcasting (i.e., video content) over a single satellite carrier. The DaVid technology works by aggregating multiple transport streams and IP data into a DVB-S2 multiplex while providing end-user control of all transmission types.