WMSDM2 Work Microwave Broadcast Modulator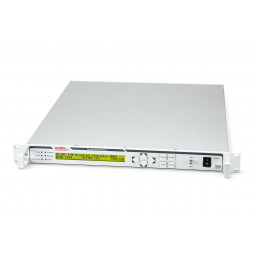 DVB-S and DVB-DSNG: QPSK/8PSK/16QAM modulation
DVB Carrier ID - ETSI TS 103 129
Broadcast Predistortion including automatic group delay and dynamic constellation predistortion for QPSK and 8PSK (option XB)
Extended Predistortion including automatic group delay and static constellation predistortion up to 32APSK (option XE)
Optional BISS-E encryption, supports multi program transport stream
Physical layer framing with scrambling codes 0 to 262141 according to DVB-S2 standard
Fully compliant with DVB standards, the DVB Satellite Broadcast Modulator supports a wide range of DTH broadcast, video contribution, and distribution applications over satellite.

Through an advanced feature set, the broadcast modulator helps operators get the most out of expensive satellite bandwidth, optimize data transport, and considerably improve satellite signal quality. Innovative features include Carrier ID, DVB-S2 multistream, TSoIP, and wideband (up to 80 Mbaud). In addition, the DVB Satellite Broadcast Modulator platform supports next-generation DVB-S2X, providing operators with a future-proof solution.

MPEG transport stream input – L-band or IF output
The modulator accepts MPEG transport streams on ASI, SPI, or TS over IP inputs from a video encoder or MPEG multiplexer and provides a DVB-S, DVB-S2 or DVB-S2X modulated carrier output between 50 to 180 MHz or L-band. Additionally a baseband frame input is available for VCM and ACM modes in combination with external multiplexers and encapsulators.