WMVSCU-L, WMVSCD-L Work Microwave Compact Satellite Up- and Downconverter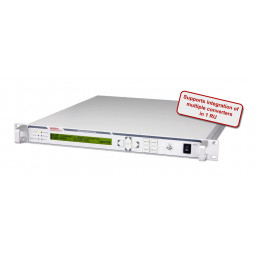 70 MHz or 140 MHz IF bands available
Optional switchable IF 70 MHz and 140 MHz (IF 70/140)
Variable attenuator on input and output
Digital gain compensation
RF RMS detector (UPC)
Very low phase noise (< -67 dBc/Hz @ 10 Hz)
Long-term stability 10-7/year
Automatic reference recognition (5 and 10 MHz)
Adjustable gain equalizer
Product Code: WMVSCU-L, WMVSCD-L
WORK Microwave's integrated, compact frequency converter is a new cost-effective option for satellite operators, integrators, and teleports made possible by the latest advancements in RF chipsets.
Enhancements
Compact Design: Designed specifically for operators using classic IF frequency bands, the compact version enables operators to support multiple simultaneous channels in one unit, saving significant rack space and costs.

Input and Output Adjustable Attenuator: With two software adjustable attenuators the operator can now optimize the system performance regarding noise figure and intermodulation.

RF-RMS Detector: Through a new RMS Detector the user can perform a real time monitoring of RF-power, giving the opportunity to initialize a switch over to spare units in case of RF power loss or simply to monitor the system.