WMVSBU Work Microwave Block Upconverter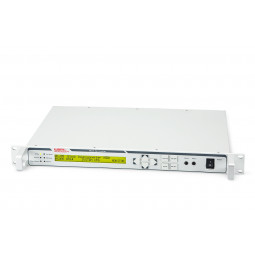 Gain slope Equalizer available
Output power +10 dBm (1 dB compression point)
Low spurious emissions
Internal OCXO with long term stability 10^-7/year
External reference input 5 or 10 MHz
Local control through push buttons on front panel and display menu
Stored alarms with time stamps
WORK Microwave's block converters are designed to optimize the performance and bandwidth of satellite communications links, enabling operators to cost effectively deliver a superior signal quality. Ideal use cases include fixed satellite ground stations as well as in satellite newsgathering (SNG) vehicles, fly-aways and other mobile or portable applications.
The fifth-generation frequency converter series is built with the most advanced technologies available to ensure outstanding performance, high reliability and a longer lifetime.
5th-generation enhancements

Reduced phase noise: Based on a powerful new synthesizer the frequency converters achieve a phase noise significantly beyond the recommended industry specification (Intelsat's IESS-308/309).
Optional slope compensation up to +8 dB / GHz over L-band: With slope compensation users can effectively balance the losses and negative slope of augmented cable runs to ensure that all signals entering the RF processing chain are at similar levels across all frequencies.
Improved flexibility and usability: Through a new USB port, operators can now access the converter via the back panel to make copies of parameter settings, replicate selected configurations on another device or save configuration settings for future reference. In addition, a user-friendly, Web-based interface offers an intuitive user experience. When coupled with the enhanced USB port, the customizable GUI also simplifies the installation of firmware updates.
Higher reliability: An AC power consumption of typically 35 VA / 20 W maximizes the reliability and lifetime of the units.