WMVSBU-Red Work Microwave Redundant Block Upconverter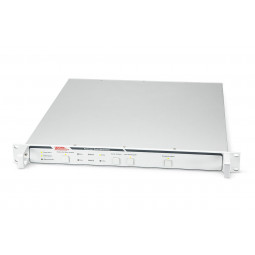 Previously three devices in one 19" housing
Hot pluggable slide-in converters
Redundant power supplies
Low phase noise
Adjustable attenuator (range: 0 … 20 dB, 0.1 dB step size)
Output power +10 dBm (1 dB compression point)
Low spurious emissions
Internal OCXO with long term stability 10-7/year
External reference input 5 or 10 MHz
Reference output 10 MHz
WORK Microwave's 1+1 redundant block converter system combines a redundancy switching system and two block converters in one unit, increasing operators efficiencies and cost savings. By consolidating previously separate capabilities into a single, compact, 19" housing, the WORK Microwave system dramatically reduces power consumption, providing operators with an innovative approach to redundant block converter systems. The hot plugging capability of the slide-in converters allows changing the spare unit without any downtime. Ideal use cases include fixed satellite ground stations as well as in satellite newsgathering (SNG) vehicles, fly-aways and other mobile or portable applications.
The fifth-generation frequency converter series is built with the most advanced technologies available to ensure outstanding performance, high reliability and a longer lifetime.
5th-generation enhancements
Reduced phase noise: Based on a powerful new synthesizer the frequency converters achieve a phase noise significantly beyond the recommended industry specification (Intelsat's IESS-308/309).
Improved flexibility and usability: Through a new USB port, operators can now access the converter via the back panel to make copies of parameter settings, replicate selected configurations on another device, or save configuration settings for future reference. In addition, a user-friendly, Web-based interface offers an intuitive user experience. When coupled with the enhanced USB port, the customizable GUI also simplifies the installation of firmware updates.
Higher reliability: An AC power consumption of typically 45 VA / 30 W maximizes the reliability and lifetime of the system.
High signal integrity
The very low phase noise of the oscillators guarantees an excellent signal quality. Low spurious emissions allow our customers to use the converters in the environments with demanding requirements, such as high power video uplinks. Sophisticated temperature compensation guarantees the stability over a wide temperature range.