WMRSCC-8 Work Microwave Compact Redundancy Switch 8:1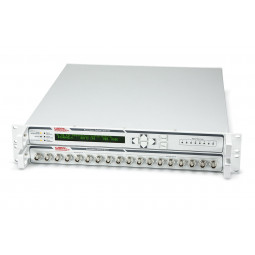 Interface Converter Unit Alarm: 9x connector DSUB09 female
Interface to Indoor Switch Matrix: Connector DSUB15 female
Insertion loss compensation: For each channel attenuation and equalization 1) offsets can be set to compensate for influences of cable and relay differences in case of a replacement.
Switching: Manual or Automatic
Delay from unit alarm occurrence until IF/RF relay switching: Typical 100 ms, max. 400 ms (depending on connected spare unit)
The WORK Microwave Redundancy Switch RSCC-8 is a compact solution for an 8:1 redundancy system. It can be used for Upconverters and Downconverters. The system consists of the controller and an indoor switch matrix integrated in separate 19" 1 RU housing.
The system can be configured from the front panel or remotely via RS232, RS422/485, or TCP/IP over Ethernet.
The switching system can be set in automatic mode, whereby an automatic switchover to the spare unit is performed upon detection of an alarm generated by the main unit. In addition, a manual switchover to the spare unit and back can be initiated.
Two power supplies and two AC input connectors within the unit guarantee high availability.
The Redundancy Switch RSCC-8 is also available with integrated uplink power control (Option UPC).