CableFree MMW Radio 60 & 70-CPRI OBSAI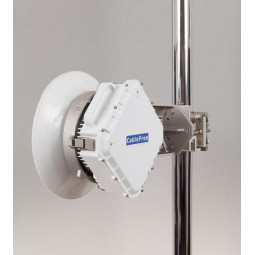 Capacity 1.228, 1536 & 2.457Gbps Full Duplex
CPRI and OBSAI-compliant interfaces
Versions for unlicensed 60GHz and semi-licensed 70/80GHz bands
Range from 1.5 up to 20km*
"Pencil beams" of 0.5 - 0.8degrees
20ns: Lower latency than fibre optics
Rugged outdoor grade waterproof enclosure
Product Code: CFMMW-Radio-60-70-CPRI-OBSAI
CableFree is offering a range of high performance radios using millimeter-wave frequencies. Using high frequency microwave signals at 60GHz and above, large bandwidths of up to 2.5Gbps Full Duplex capacity can be provided.
Millimeter wave is a technology complimentary to Wireless Excellence established range of FSO (Free Space Optical) communication systems. Planning for Millimeter wave is based on rainfall, compared to FSO which is based on visibility, predominantly fog.
CableFree MMW-60-CPRI and MMW-70- CPRI are full-duplex Gigabit point-to-point links especially designed according to FCC and ETSI requirements. They provides interconnection between locations at up to 2.5Gbps with CPRI interfaces which is the standard for Remote Radio Heads for 4G/LTE Infrastructure, the evolving standard for switches and routers available from a variety of telecommunication equipment manufacturers.
The MMW-70- CPRI product has 10 fibre optic connections at each end of the wireless link and operates as a transparent link for the CPRI/OBSAI signals. The resulting connection can replace a fibre-optics cable physically connected end-to-end. The wireless mm-wave link provides fibre equivalent performance, reliability and security but with no high deployment cost associated with outdoor fibre installations.
The Gigabit Ethernet point-to-point millimeter wave radio links have been designed with compact parabolic Cassegrain antennas of 30 and 60 cm diameters, with narrow beam widths of 0.4 and 0.9 degrees which maximises signal margin across the link and ensures lack of interference from other links or sources.
The MMW-70-CPRI operating distances vary from 1.5 to 20 km for varying weather conditions depending of the link frequency and rain intensity. Planning for millimeter wave spectrum use must take into account the propagation characteristics of radio signals at this frequency range. While signals at lower frequency bands can propagate for many miles and penetrate more easily through buildings, millimeter wave signals can travel only a few miles or less. However, these characteristics of millimeter wave propagation are not necessarily disadvantageous. Millimeter waves can permit more densely packed communications links, thus providing very efficient spectrum utilization, and they can increase security of communication transmissions.