CF4G-Base-Station CableFree 4G-LTE Cellular Base Station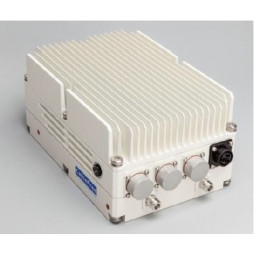 Compact, Software-Defined 4G/LTE Base Station
Ideal for Multi-Sector Macro Site
Spectrally Efficient, Software-Defined Radio
"Stand Alone" mode capable
Supports both FDD or TDD modes
Supports MIMO 2x2 as standard
Options for 4x4 MIMO and Dual 2x2 MIMO
Transmit Power from 500mW to 20W per Tx
Optional support for other Backhaul signals up to 100MHz bandwidth
Supports LTE release 12, 13 & 14 (LTE-Advanced)
Supports NB-IoT (Internet of Things) Modes
Upgradable to 5G with future software releases
Support for LTE in 5GHz Unlicensed Bands
Product Code: CF4G-Base-Station
CableFree: Wireless Excellence offers high performance 4G/LTE Base stations solutions for a wide variety of applications. Covering all common 4G/LTE bands the base stations feature Software Defined Radio (SDR) which enables great flexibility of operation and future upgrade path.

4G/LTE networks using CableFree Emerald 4G SDR base stations enjoy great flexibility, high performance as well as very low cost of operation and ownership. "Stand Alone" operation is possible which enables the 4G Base station to connect remote terminals without need for external network elements.. This is ideal for closed network type applications such as CCTV, campus sites and disaster recovery scenarios, where there is no centralised infrastructure or Network Operations Centre.
The CableFree: Wireless Excellence Emerald platform is an integrated advanced system capable of handling multiple LTE carriers. Provided in a sealed carrier grade unit for installation in most locations. The Emerald RF platform is at the forefront in terms of digital pre-distortion technology and signal processing associated to advanced PA architecture. This make the Emerald platform ideal for implementation within the cellular and advanced point to point communications market.
The Emerald RRH RF units are suitable as a multicarrier power amplifier either in the Base station or aggregated within the deployment. To achieve maximum flexibility in terms of utilisation, units can support:
TDD or FDD Modes
Additional Customer specific frequencies
The duplexer used for TDD modes ensures compliance with the ETSI TS136 104 specifications.
The Emerald RF platform allows management through the Ethernet based connection. This allows for the transceiver to be managed or upgraded either via local connection or via secure remote protocols.
CableFree Emerald RF platform allows for the Rx inputs to operate in high or low sensitivity modes for NF receiver performance.
The Emerald RF unit carries 2 CPRI input connections to allow for the latest generation of LTE architecture to be implemented.