CF4G-Desktop-Cat4 CableFree 4G-LTE Cellular CPE - Desktop Cat4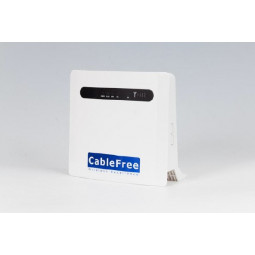 Compact, 4G/LTE CPE solution; Category 4 compliant
Spectrally Efficient, Software-Defined Radio
"Stand Alone" mode capable
The Emerald Platform supports both FDD/TDD LTE and supports MIMO 2x2 natively
Emerald CPE can accommodate analogue telephony plus VOIP and broadband Data
Product Code: CF4G-Desktop-Cat4
Advanced 4G/LTE CPE solution (Cat4)
Wireless Excellence offers high performance 4G/LTE CPE solutions for a wide variety of applications. Covering all common 4G/LTE bands of the base stations which enables great flexibility of operation and future upgrade path.
4G/LTE networks using CableFree Emerald CPEs enjoys great flexibility, high performance as well as very low cost of operation and ownership. "Stand Alone" operation is possible which enables the 4G Base station to connect remote terminals without need for external network elements.. This is ideal for closed network type applications such as CCTV, campus sites and disaster recovery scenarios, where there is no centralised infrastructure or Network Operations Centre.
Applications
Telecom Service Providers & ISPs
Cellular Network operators
Ideal for WiMax operators now using LTE
Point-to-Multipoint Point Wireless networking
CCTV connection for multiple cameras
Oil & Gas Utilities
Fast Roll-out & Temporary Deployment
Enhanced Performance, Flexibility & Features
The CableFree Emerald CPE is available as a full indoor unit, or an indoor unit with additional outdoor antenna for longer
distance links. There is an option for a full outdoor, 'carrier grade' unit if required with integrated high gain antenna and
ruggedised housing. All units are highly versatile in deployment, with full support for LTE in both TDD & FDD as well as
multi-mode wireless capabilities.
Key Features:
Full support for VOIP (optional feature) with RJ11 ports
TR-069 and OMA-DM network management protocols
Can be adapted via modules to LTE support in several
different frequency bands
Support internal or external antenna
Simple, elegant and suitable for multiple locations