foxcom-mounts Foxcom Chassis Mount CATV/SMATV Transmitters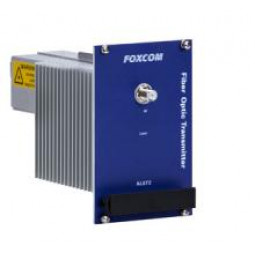 Frequency Range - Bandwidth: 54 to 860MHz
Optical Output Power [dBm] 1310: +11/+12dBm
Optical Output Power [dBm] 1550: +4/+7dBm
Typical RF Input Power [dBmV/channel]: 25dBm
RF Input Return Loss [Min. dB]: 12dB
Optical Distance: 1310nm 1550nm
Minimum Optical Output Return Loss [dB]: -50dB
Product Code: foxcom-mounts
Global Foxcom AL5T2 CATV/SMATV chassis mount transmitters process AM/VSB, 8VSB, QAM or terrestrial signals inputs from multiple current or planned sources. Using direct modulation, signal integrity is preserved, guaranteeing excellent video quality required for High Definition reception. The AL5T2 Series serves a full range of high performance CATV/SMATV applications cost effectively. A variety of lasers, output powers, wavelengths and options are available to maximum flexibility and scalability.
When coupled with Global Foxcom's FPS line of LGX style optical passive components, transmitter outputs may be split or multiple AL5T2 signal paths can be combined using Wave Division Multiplexing to make use of existing fiber infrastructure and ensure future expansion capability.
The AL5T2 CATV/SMATV transmitter module occupies two slots on the AL-500 19" 3U active shelf.
| | |
| --- | --- |
| Frequency Range - Bandwidth | 54 to 860MHz |
| Optical Output Power [dBm] 1310 | +11 / +12dBm |
| Optical Output Power [dBm] 1550 | +4 / +7dBm |
| Typical RF Input Power [dBmV/channel] | 25dBm |
| RF Input Return Loss [Min. dB] | 12dB |
| | |
| Optical Distance | 1310nm 1550nm |
| Minimum Optical Output Return Loss [dB] | -50dB |