Norsat 9000 Ka-Band (17.2-22.2 GHz) Quad Band Isolator LNB Model 9000XI4ECN-4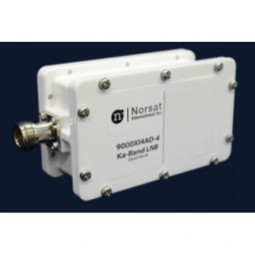 Input Frequency 17.2-22.2 GHz
LO Stability Phase Locked to External Reference
RF Input Connector WR-42 waveguide grooved
Temperature - Operational -40 to + 60°C
Product Code: 9000XI4ECN-4
9000XI4ECN-4 Ka-Band PLL LNB
The Norsat 9000XI4ECN-4 Ka-band PLL LNBs offer four separate sub bands for the utmost in frequency flexibility with improved conversion gain and gain flatness allowing users the ability to reliably receive a narrower band transmission from Ka satellite networks. The 9000XI4ECN series is available in frequencies ranging from 17.2 to 21.2 GHz, in four sub-bands:
Outline Dimensions
Ordering Info
Input: (waterproof) WR-42 waveguide
Output: Type-N Connector (50 ohm)
Technical Specifications

Noise Figure (@ +25˚C)

2.0 dB max.

Conversion Gain

58 to 65 dB

Gain Flatness (each band)

4 dBp-p max.

Input VSWR

1.3 : 1 max.

Output VSWR

2.0 : 1 max.

Image Rejection

40 dBc @ band 1

25 dBc @ band 2

0 dBc min. @ other bands

Gain Ripple (@per Channel)

+/- 1 dBp-p max.

1 dB Gain Compression Point

+10 dBm min.

Leakage (@ Input Port)

-60 dBm max.