Comtech Ka-band 225W 27-31 GHz Comtech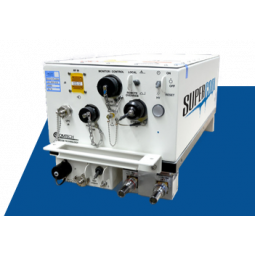 The SuperCoolTM family of amplifiers has many practical advantages over traditional air-cooled amplifiers including reduced heat load in hubs; flexible and more compact installation; ease of service and maintenance; higher reliability; ambient noise reduction; and gain stability over ambient temperature.
The new Comtech Xicom design incorporates integrated cooling channels in the amplifier baseplate, external to the sealed high voltage and RF circuitry compartment, with drip-free connections. Elimination of the need for air flow provision dramatically simplifies hub layout and design and provides more space for maintenance operations and additional equipment.
Product Code: XTDL-500KaL
| | |
| --- | --- |
| Frequency (GHz) | 27-31 GHz |
| TWT Power (W) | 500 |
| Flange Power (W) | 225 |
| Size (inches)wxlxh | 10.25x22.25x9.5 |
| Weight (lbs) | 58 |