AGILIS ALB250 100W X-Band VSAT Outdoor Block-Up Converter F Input (BUC)
AGILIS ALB250 100W X-Band VSAT Outdoor Block-Up Converter F Input (BUC)

This small and lightweight BUC is ideal for mobile andsatellite uplink applications.T
he BUC has excellent efficiency and consumes lesspower due to the innovative and efficient thermaldesign.
Built-in redundancy-ready feature eliminates the useof an external controller for 1:1 redundancy operation.This eliminates messy cabling at the antenna makingthis a very elegant solution.
Extensive M/C interface with RS232/485, Ethernet(SNMP & HTTP), Bluetooth and Wifi
Product Code: agilisALB250F_100w
AGILIS ALB250 100W X-Band VSAT Outdoor Block-Up Converter F Input (BUC)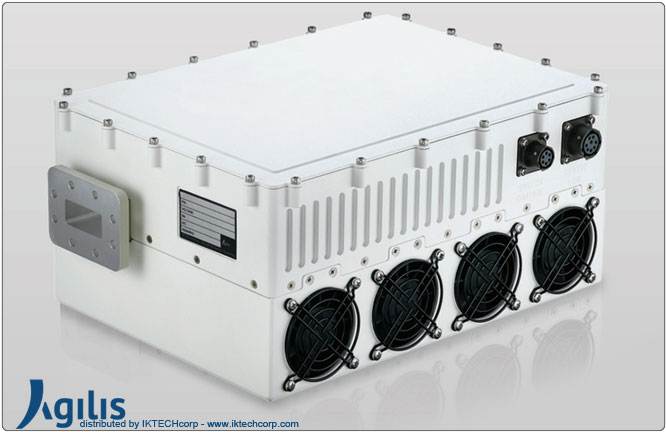 Summary
This small and lightweight BUC is ideal for mobile and satellite uplink applications.
The BUC has excellent efficiency and consumes less power due to the innovative and efficient thermal design.
Built-in redundancy-ready feature eliminates the use of an external controller for 1:1 redundancy operation. This eliminates messy cabling at the antenna making this a very elegant solution.
Extensive M/C interface with RS232/485, Ethernet (SNMP & HTTP), Bluetooth and Wifi.
Features
• Compact and lightweight
• Forward & reverse power detection facility
• Input power detection facility
• Intuitive monitoring & control through RS232/485, Ethernet (SNMP & HTTP) & Bluetooth
• Automatic fault identification & alarm generation
• Temperature compensation facility
• Built-in redundancy facility
• Built-in 10MHz reference with auto-detection
• Sample port for output monitoring
• Wide operating temperature range -40ºC to +60ºC
• RoHS Compliant
• Waterproof
Reliability
Field proven under harsh environment conditions, Agilis ODUs can withstand temperature ranging from -40ºC to +60ºC with up to 100% humidity.
Quality Assurance
100% of all BUCs go through stringent quality checks in addition to well defined Electrical Stress Screening to ensure operation in harsh outdoor environments. The BUCs are also subjected to seal test for water ingress verification.
AGILIS ALB250 100W X-Band VSAT Outdoor Block-Up Converter F Input (BUC) Specifications
RF Specifications

Transmit Frequency

7900MHz to 8400MHz

IF Frequency Range

950MHz to 1450MHz

Output Power @ Psat

49dBm (80W)

 

50dBm (100W)

Small Signal Gain

80dB nominal

Gain Flatness

±2dB over the O/P frequency band

Gain Variation

±1.5dB over the operating temperature range

Gain Control

20dB in step of 0.5dB

Inter Modulation

-25dBc @ Relative to combine power of two carriers at 3dB total power backoff from Rated Output power

O/P spurious

According to EN301443

Phase Noise @ Offset

 

1KHz

-73dBc/Hz

10KHz

-83dBc/Hz

100KHz

-93dBc/Hz

I/P VSWR

1.5.1

O/P VSWR

1.5.1
DC Power

Prime Power

For AC (90 - 264VAC, 50 - 60Hz)

Power Consumption

600W (Typical for 80W & 100W)
Interfaces

IF Input Interface

50Ohms N-type Female

Output Interface

WR 112G
External Reference Requirement

Frequency

10MHz

Power

-5dBm to +5dBm

Internal 10MHz Ref

In-built (auto-detection )

External reference phase noise

 

requirement @frequency offset

 

1kHz

-150dBc/Hz

10kHz

-155dBc/Hz

100kHz

-160dBc/Hz
Monitor & Control

Monitor

BUC Temperature
Status Alarm
RF Output Power/RF Input Power
RF Reflected Output Power
LED Status Indication

Control

Attenuation

 

RF output mute

Interface

RS232/485, Ethernet (SNMP & HTTP) &
Bluetooth / Wifi (Optional)

Tx Redundancy

In-built
Environmental

Operating Temperature
-40ºC to +60ºC
Humidity
Up to 100% Weather protection sealed to IP65
Mechanical

Size

300L x 210W x 170H (80W & 100W)

Weight

10kg (80W & 100W)

Color

White Powder Coat
Compliance Standard
See Datasheet