AvL 9066FA 90x66cm Military Motorized Tri-Band FlyAway Antenna X-band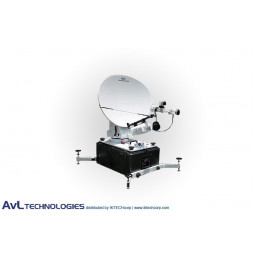 AvL 9066FA 90x66cm Military Motorized Tri-Band FlyAway Antenna 2-port Ka-band Military (WGS ready)


• Rx/Tx Feed: 2-Port X-Band (Military/WGS/XTAR)
- Receive: 7.25 - 7.75 GHz
- Transmit: 7.9 - 8.4 GHz
• Airline Checkable Pack-up
• Configurable Bases:
- Low (std.)
- Tripod
- Case-Based
• Key Features
- 10 minute set-up
- Zero Backlash AvL Cable Drive
- Auto-Acquisition Controller
Product Code: avl_9066fa_x
AvL 9066FA 90x66cm Military Motorized Tri-Band FlyAway Antenna 2-Port X (Military/WGS/XTAR)
 

Summary

AvL 9066FA 90x66cm Military Motorized Tri-Band FlyAway Antenna 2-Port X (Military/WGS/XTAR)

AvL's 90cm Compact FlyAway Military antenna systems offer superior performance in a truly compact, lightweight and portable package. The Model 9066 antenna systems can be packed into backpacks or cases and flown or carried anywhere, then set up and operational within minutes.  

AvL's FlyAway Military antennas  are designed to meet and exceed the highest performance requirements around the world to guarantee both satellite authority compliance and peak in performance, reliability and availability.

Each Flyaway Antenna is priced to include the AvL carbon fiber antenna and auto-acquisition controller for ease of operation. As with all AvL antenna systems, no laptop is necessary to operate the controller, the antennas interface with any modem, RF electronics, or satellite service.

AvL 9066FA 90x66cm Military Antenna Systems feature:
• Airline Checkable Pack-up (Overnight Air Freightable)
• Configurable Bases: Low (std.), Tripod or Case-Based
• High volume production model
• 90x66cm Heavy-Duty 5-Piece Carbon-Fiber Reflector with 25% more gain than comparable antennas
• Compact motorized AvL Cable Drive for reliable positioning
• Unique motorized polarization drive system with rotation of reflector to maintain alignment with orbital arc
• One button auto-acquisition controller
• Standard 2-port Ku-band precision feed
• Optional feeds:  2-port Ku-band mode-match, 2-port Ka-band commercial, 2-port Ka-band military (WGS ready), and 2-port X-band military (WGS ready) with an optional Rx/Tx reject filter kit
• Interfaces with all types of RF electronics and satellite services 
• 10 minute set-up

While the vast majority of military applications to date have relied on commercial satellite interoperability, especially at Ku-band, AvL is now leading the industry in the delivery of systems that will operate over the next generation of military satellites, including Xtar (X-band) and the new US Army Wideband Global Satellite (WGS) constellation (X- and Ka-band). Most of our military antennas can be offered with upgradability to X- and Ka-bands of operation.

AvL antennas interface easily with all RF systems and are compliant with FCC and Intelsat requirements for 2° spacing as well as optional models for meeting Eutelsat and Asiasat criteria. AvL antennas are also in the certification process for operation over the US Army DSCS and WGS satellites.

Model 9066FA Backpack Carry-On (single backpack)

Model 9066FA Checkable Rolling Case (single case)

Model 9066FA Checkable Backpack (single backpack)

Model 9066FA Checkable Case-Based (two cases) 

 
 
 
Technical Specifications Diagram
 
 
Inquire
AvL 9066FA 90x66cm Military Motorized Tri-Band FlyAway Antenna 2-Port X (Military/WGS/XTAR)
MECHANICAL SPECIFICATIONS
 
 
Az/El Drive
Motorized AvL Zero Backlash Cable Drive (Patent Pending)
Polarization Drive System
Unique Rotation of Reflector (to maintain alignment with orbital arc); includes Manual Override

Reflector Construction
90cm x 66cm Segmented 5-Piece Carbon Fiber
 
 
Axis Travel ▼


Azimuth
180° (±200°)
Elevation (reflector boresight)
15° - 75° (via calibrated inclinometer; boom-mounted CFE may reduce travel)
Polarization
Motorized ±75° with manual H/V selection
 
 
Az/El Speed: ▼


Slewing/Deploying (typical)
5°/second azimuth; 2°/second elevation; 3°/second polarization
Peaking (typical)
0.2°/second
 
 
Motors
24 VDC Variable Speed, Constant Torque
 
 
Standard Interfaces: ▼


BUC (& other CFE) Mounting
Call factory
Tx Input @ Feed
Ku: WR 75 Cover Flange at Feed Tx Port
Rx Input (AvL-supplied coax)
Type RG59 from feed to base
 
 
Controller Interface
One 30-ft. cable with connector from base connector panel to controller
Manual/Emergency Drive
Common handcrank for az, el, and pol axes
 
 
Size (Stowed Dimensions)
53 L x 36 W x 13½ H inches
(135 L x 91 W x 34 H cm)
Weight – Std. Low Base
2-Case Carry-on or 1-Case Checkable, <70 lbs.
Weight – Opt. Tripod
Checkable (or Air-Freight) Roll-Around Storm Case Kit (2 Cases): < 75 lbs. (40 kg) ea.
Weight – Opt. Roto-Mold Case Base
Checkable (or Air-Freight) Positioner Base Case: < 87 lbs. + Storm Case: < 75 lbs.
ENVIRONMENTAL SPECIFICATIONS
 
 
Wind – Survival
Deployed: 75 mph (121 kph); Stowed: 100 mph (161 kph)

Wind - Operational
45 mph (72 kph)

 
 
Pointing Loss in Wind (Ku RX) ▼


10 mph (16 kph)
0.1 dB (0.1 deg) typ.
20 mph (32 kph)
0.2 dB (0.2 deg) typ.
 
 
Temperature: ▼


Operational
-22° to 125° F (-30° to 52° C)
Survival
-40° to 140° F (-40° to 60° C)
RF / ELECTRICAL SPECIFICATIONS
Receive
Transmit
 
 
 
Feed Type ►
Opt. 2-Port X (Military/WGS/XTAR)






Frequency Range (GHz)
7.25 - 7.75
7.9 - 8.4
Polarization Configuration
Circular – orth. (RHCP/LHCP)
Gain (mid-band) @ Horn Interface (dBi)
33.7 dBi
34.2 dBi
-3dB Beamwidth (mid-band)
3.1°
2.8°
First Sidelobe Level (typical)
-22 dB
-22 dB
Antenna Noise Temperature (midband)
54K


Radiation Pattern Compliance
MIL-STD-188-164A
Maximum Feed Transmit (Tx) Power
 
1000W
VSWR
1.30:1
1.30:1
Reflector Optics
0.7 f/D
0.8 f/D
Feed Type
Integral Feed / Polarizer / OMT / Transceiver
Axial Ratio (Ka and X only, within pointing cone)
1.2 dB
2.0 dB
Feed Port Isolation – Tx to Rx (dB)
25 dB (excl. filter)
25 dB (excl. filter)
CONTROLLER SPECIFICATIONS: STANDARD
 
 
Controller Type ►
Std. Auto-Acquire with Opt. Ethernet IP Interface

Standard Feature ▼
 
Fully-automatic satellite acquisition, with automatic azimuth, elevation and cross-polarization peaking; includes on-board, one-button deploy/acquire interface for pre-configured systems; includes on-board GPS, electronic compass, level sensors and auto-compensation; customer-configurable satellite list. Note: Beacon Receiver or Modem as acquisition signal source may be required for non-commercial satellites

 
 
Integration
Embedded w/ Handheld, incl. Shelf-Mount P/S (optional 1RU w/ front-panel keypad + integral P/S)
User Interface
Menu-driven display w/ keypad
Input Power
115/230 VAC (at rack); up to 200W
Software Upgrades/Options
Inclined orbit tracking (using step-track or TLE track); automatic band sensing
CONTROLLER SPECIFICATIONS: OPTIONAL
 
 
Controller Type ►
Opt. Enhanced Auto-Acquire with Ethernet IP Interface

Standard Feature ▼
 
Fully-automatic satellite acquisition, with automatic azimuth, elevation and cross-polarization peaking; includes on-board, one-button deploy/acquire interface for pre-configured systems; includes on-board GPS, electronic compass, level sensors and auto-compensation; customer-configurable satellite list. Note: Beacon Receiver or Modem as acquisition signal source may be required for non-commercial satellites

 
 
Integration
Embedded w/ Ethernet IP Interface (P/S optional) (optional rack-mount P/S available)
User Interface
Intelligent/simple GUI for on-board or remote CFE laptop
Input Power
28V DC (at antenna positioner); optional 115/230 VAC rack-mount power supply; up to 200W
Software Upgrades/Options
Inclined orbit tracking (using step-track, memory track, or TLE track); automatic band sensing
Available Options, Upgrades & Services
• Optional:
• Upgrade from 2-Port Precision Ku Feed to:
a) 2-Port Enhanced Cross-Pol (Mode-Matched) Ku;
b) 2-Port X MIL;
c) 2-Port Ka MIL;
d) 2-Port Ka Comm.
• Add Co-polarization Kit (for 2-port Ku feeds only) - configures Rx and Tx to same polarization sense
• Add BUC/HPA Mounting (NOTE: minimum elevation may be restricted by these options)
• Upgrade to Custom RF/IF I/O cabling configurations available
• Custom Colorization (contact factory for available colors)
• Add Custom Logo on Reflector Face (1- or 2-Color; per AvL Logo Policy)
• Upgrade from Standard TracStar Auto-Acquire controller to AvL AAQ2000 Enhanced Auto-Acquire (see • Controller section, above, for some of these options)
• Add Power Supply for AAQ2000 Controller Upgrade
• Spare Parts Kit


Technical Specifications Diagram
Inquire