Comtech 1250W Ku-Band Rack Mount High Power Amplifier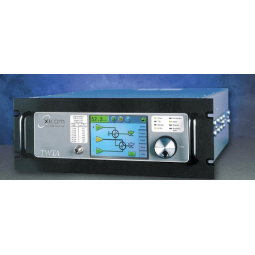 1250 watts peak power, 575 watts linear power with linearizer
Touchscreen interface
Built-in redundancy controller
Ethernet interface, remote diagnostics
Parameter trend analysis
Includes linearizer
Product Code: XTRT-1250KHE
The XTRT-1250KHE is a highly efficient rack mountable traveling wave tube amplifier (TWTA) designed for uplink applications. The unit includes RF gain control, predistortion linearizer, a solid state pre-amplifier, cooling, and monitoring and control (M&C) system. Rack space is conserved because the amplifier occupies only 4 rack units (7 inches) of a standard 19 inch rack cabinet.
The unit features a menu driven front panel LCD and RS-232/422/485 serial port interfaces for complete computer control. The tabbed front panel display can display HPA status, parameter trend analysis and event logs with a simple touch of the screen. Remote diagnostics is possible via the standard Ethernet interface. Gain control is provided via the front panel or through the serial interface.
The XTRT-1250KHE incorporates high efficiency, multi-stage collector 1250W peak power TWT. The output operational power is limited, however the linear power performance at 575W and below is equivalent to a 1250W tube. Depending upon user requirements, the amplifier can be configured for either single thread or redundant system operation.