Comtech 2000W C-Band High Efficiency Rack Mount High Power Amplifier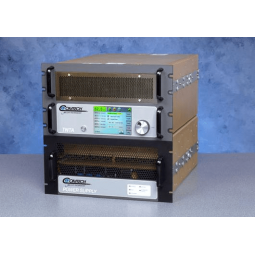 Touch screen interface
Built-in redundancy controller
Ethernet interface, remote diagnostics
Parameter trend analysis
Optional integrated linearizer
Optional BUC
Product Code: XTRT-2000CHE
XTRT-2000CHE and XTRT-2000C digital rack-mount amplifiers are designed for Linear Power applications and occupy only 11 rack units while providing 2250 Watts of Peak TWT Power and 1000 Watts of Linear Power. These high efficiency traveling wave tube amplifiers include RF gain control, a solid state pre-amplifier and integrated C-Band Linearizer, RF filters, cooling, and monitor & control (M&C) systems.
The dual-drawer amplifier conserves rack space and occupies only 19.25 inches (11 rack units) of a standard 19 inch rack cabinet. A complete 1:1 or 1:2 redundant TWTA system, including a redundant controller, can be mounted in a single rack.
The XTRT-2000CHE/C are 2250W C-band amplifiers with a touch screen front panel for easy customer interface. The display shows HPA status, parameter trend analysis and event logs, and remote diagnostics can be easily performed via the Ethernet interface. Also, because the dis- play can show and control waveguide switches or a combiner, the need for separate external controllers is eliminated for common architectures.
The units incorporate high efficiency, multi-stage depressed collector TWTs. Reliability is enhanced because both prime power consumption and internal operating temperatures are reduced for the linear and sat- urated modes of operation. By using a separate power supply design, sparing and logistics are simplified and individual box weight is minimized.
Depending upon user requirements, the high power amplifiers can be configured for single-thread, redundant, or phase combined operation.