Comtech 250W V-Band Antenna Mount High Power Amplifier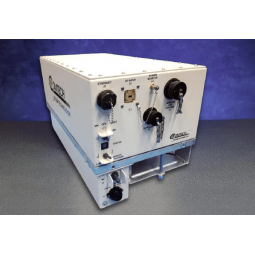 250 Watts Peak TWT Power
-40°C to +60°C Operation
Complete RS-422/485, Ethernet Interface
Designed for Uplink Applications
The XTD-250QV is a compact self-contained antenna mount power amplifier designed for low cost installation and long life.
Cooling and monitor & control systems are all self-contained within the amplifier.
TWTs are available delivering 250 Watts peak power across the 47.2 to 51.4 GHz band. A predistortion linearizer is also included to optimize linear power at the HPA flange.
The XTD-250QV provides several methods of tube protection including output power monitoring.
The amplifier is available with multiple options including redundant configurations, preamplifiers with fixed or variable gain.
A remote external controller is available to operate the HPA from a user selected location.