Comtech 500W Ka-Band Antenna Mount High Power Amplifiers (KaL)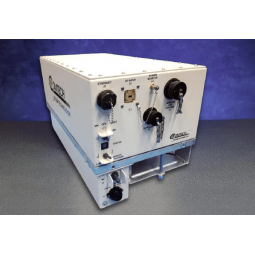 500 watts Ka-band peak or CW
Optional frequencies within 27.0 and 31.0 GHz
Rugged 58 lb. antenna mount package
Includes linearizer
Complete RS-232/422/485 ethernet interface
-40°C to +60°C ambient
The XTD-500Ka series are compact, self contained antenna mount power amplifiers designed for low cost installation and long life. Comtech Xicom offers both a "Peak" and CW version of this product across a range of commercial frequencies between 27.5 and 30 GHz. The CW version allows the amplifier to be safely driven up to its saturated power output level. The more economical Peak version is limited to operation up to its "linear" power level, which still delivers the equivalent usable multi-carrier RF power.
The XTD-500 family features high RF efficiency which enables a smaller, lighter amplifier with the ability to operate at up to 60 deg C ambient temperatures.
Comtech Xicom has developed proprietary features to improve performance and life including an automatic bias control system which extends TWT life by maintaining constant beam current over time and a precise system for matching linearizer performance to a specific tube over a wide range of operating conditions maximizing useable linear power.
Optional integrated block upconverters (BUC) are available. They can be ordered with an integral 10 MHz reference module for independent operation or with external 10 MHz input for phase lock to GPS or other system clocks.
The amplifier is equipped with an internal 1:1 switch control capable of driving an input and output switch for redundancy. Rack mountable controllers are also available.