Comtech 550W Ka-Band Antenna Mount High Power Amplifiers (EN2)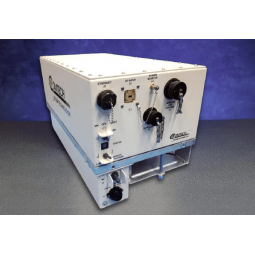 550 watts Ka-band
27.0 to 29.5 GHz
Rugged 58 lb. antenna mount package
Includes linearizer
Complete RS-232/422/485 ethernet interface
-40°C to +60°C ambient
Product Code: XTD-550Kal-EN2
The XTD-500KaL-EN1 and XTD-550KaL-EN2 series are compact, self contained antenna mount power amplifiers designed for low cost installation and long life. The amplifiers use 500W or 550W TWTs and operate between 27.0 and 29.5 GHz.
The XTD-500KaL-EN1/XTD-550KaL-EN2 family features high RF efficiency which enables a smaller, lighter amplifier with the ability to operate at up to 60 deg C ambient temperatures.
Comtech Xicom has developed proprietary features to improve performance and life including an automatic bias control system which extends TWT life by maintaining constant beam current over time and a precise system for matching linearizer performance to a specific tube over a wide range of operating conditions maximizing useable linear power.
The amplifiers are available as single units or in 1:1 and 1:2 switching system configurations.
The amplifier is equipped with an internal 1:1 switch control capable of driving an input and output switch for redundancy. Rack mountable controllers are also available.