MITEC Ku-Band High Power BUC 8-200W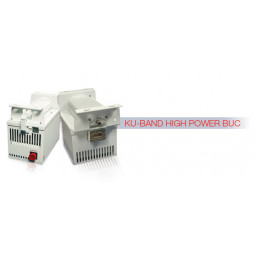 Mitec's products have more than a quarter century of proven field experience, demonstrating their unmatched dependability and reliability day after day.
This level of dependability can be found in our line of high power block upconverters. Uniquely designed to be a high quality but cost effective solution for thr VSAT market, this high power BUCs set the standard for the satellite industry.
Product Code: Ku-Band BUC 8-200W
Easy to install
No indoor equipment required
Available in standard and extended bands
High thermal dissipation efficiency resulting in "Best in Class" Mean Time Before Failure (MTBF)
Superior phase noise, compliant to IESS 308 /309
Redundancy option for 1:1 and 1:2 configuration available
Built-in facilities for critical parameters such as: RF power detection, mute control, over temperature shutdown, summary alarm
RS485, RS232, or Analog M&C interface
Auto ranging power supply
MAIN CHARACTERISITICS OF KU-BAND BUCs
Power (W)
8
10
12
16
20
25
30
40
50
80
100
150
200
Power (P1 dB) min.(dBm)
40
40
41
42
43
44
45
46
47
49
50
52
53
Power Consumption (W)
120
150
170
250
350
350
350
600
700
1200
1300
2000
2500
Power Voltage (VAC)
Auto Ranging 90 – 265 VAC
190 -265 VAC only
Dimensions (L x W x H, inches)
12 x 10 x 8
13 x 12 x 8
16 x 13 x 8
16 x 15 x 9
21 x 15 x 12
21 x15 x 16
Weight (kg/lbs)
7/15
11/25
15/34
24.5/54
33/72
50/110
Output Frequency Range
14.00 to 14.50 GHz (other frequency range options available)
Input Frequency Range
950 to 1450 MHz (other frequency range options available)
Conversion Type
Single, fixed L.O., Non-inverting
Linear Gain
70 dB min.
TX Gain Stability over temperature range
±3.0 dB max.
TX Gain Variation
±1.0 dB max over 40 MHz; ±2.5 dB over full band
Intermodulation
-26 dBc, with 2 equal carriers at 3 dB total power back off from rated power
10 MHz Reference (via IF Connector)
0 dBm +/- 5 dB, (internal reference, optional)
L.O. Phase Noise
Meets IESS 308
Input IF Impedance
50 Ohms (75 Ohms optional)
Mute Internally Built
Shut off BUC in case of L.O. unlocked
Status LED
Bicolor: RED - Alarm; GREEN - Operational