NDSPT600 M ND SatCom SKYWAN PORTABLE TERMINAL SPT 600 M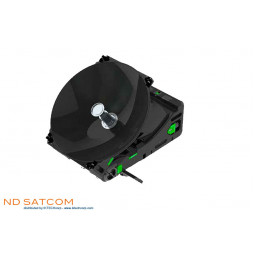 IKtechcorp is the distributor for ND Satcom, a leading manufacturer and supplier of commercial satellite equipment. Antennas used in the VSAT, DTH, COTM, Teleport, Cable, and Broadcast industries. Satellite, Flyaway, quick deploy, receive only, RF, motorized auto point, vehicle antennas."

• Flexible and easy to use
• Ultraportable
• Intelligent
• Ruggedised
• Integrated SKYWAN 5G modem
• Integrated 16W Ku-band amplifier
• High performance 60 cm parabolic antenna
• Reliable in extreme environmental conditions
• Backpack/bag transportable
• Fine adjustment ±10° in Az/El
• Assisted, fast acquisition via SKYWAN TDMA carrier system and GUI
• Wide-range DC and AC power supply
• ITAR Free
ND SatCom SKYWAN PORTABLE TERMINAL SPT 600 M
Summary
The lightweight SKYWAN Portable Terminal is a compact, integrated VSAT and modem solution facilitating rapid deployment of high throughput any to any connectivity across SKYWAN enabled networks. Extremely rugged, portable and fully integrated, the SKYWAN Portable Terminal is the only unit of its type without any loose parts. The terminal can be comfortably carried in a rucksack across rough terrain and checked in as airline baggage. The SKYWAN Portable Terminal antenna is exceptionally easy to use, has a high gain, is multi-band, and can acquire and be deployed on any satellite by utilising a user friendly GUI. The unit can be out of its bag and operating live in three minutes. The SKYWAN Portable Terminal may take the role of the hub in an All-Portable network. Star or mesh. So, for the ultimate in portability, reliability and agile connectivity the SKYWAN Portable Terminal is second to none.
Key Highlights
• Flexible and easy to use
• Ultraportable
• Intelligent
• Ruggedised
KEY FEATURES
• Integrated SKYWAN 5G modem
• Integrated 16W Ku-band amplifier
• High performance 60 cm parabolic antenna
• Reliable in extreme environmental conditions
• Backpack/bag transportable
• Fine adjustment ±10° in Az/El
• Assisted, fast acquisition via SKYWAN TDMA carrier system and GUI
• Wide-range D
Applications
ND SatCom's SKYWAN Portable Terminal solution enables remote field personnel to establish connectivity to the Internet, public telephone network and secure corporate networks in a matter of minutes. The SKYWAN Portable Terminal was designed for organisations that need fast, reliable and ultra-portable network access for - but no exclusively:
• Emergency Response/Disaster Management Communication Services
• Border Control and Surveillance Applications
• Temporary Field Locations
• Mobile Telemedicine Applications
• Special Events OPTIONS
• Softbag / Rucksack / Hardcase
• white or NATO green chassis
• Ka- and X-band
ND SatCom SKYWAN PORTABLE TERMINAL SPT 600 M
Ku-BAND
 
 
Operating Band
Tx: 13.75 GHz to 14.5 GHz Rx: 10.95 GHz to 12.75 GHz①
Antenna
60 cm Folding Parabolic
EIRP(SAT)
47.5 dBW @ 14.15 GHz
G/T
12.7 dB/K @ 11.7 GHz
Transmit Gain
35 dBi (with 16W BUC)
Polarisation
Linear (H/V) Rx orthogonal to Tx
| | |
| --- | --- |
| PHYSICAL |   |
|   |   |
| Ethernet | 10/100/1000, RJ45, to SKYWAN 5G 10/100 Base-T, RJ45, to ACU and SKYWAN 5G |
| L-Band | Modem IF Output, N-Type BUC Input, N-Type Receive Monitor Output, N-Type |
ACU CONTROL INTERFACE

 
 
3.5" Digital TFT-LCD 640 x 480
 
Display Graphical User Interface
 
Two Button Control Web
 
Browser Setup
 
PHYSICAL

 
 
Packaging
Single IATA compliant case
Weight
< 19.5 Kg, ready to transmit
Dimensions
680 mm (L) x 360 mm (W) x 294 mm (H)
| | |
| --- | --- |
| MECHANICAL / ENVIRONMENTAL |   |
|   |   |
| Temperature Range Operational: | -20 to +55°C (excl. solar radiation) Storage: -40 to +80°C |
| Wind Loading Operational: | 50km/hr (70km/hr gusting), survival: 100km/hr |
| IP Specification | IP55 |
| Power | 90 - 264VAC (47 - 63Hz) or 11.5 - 36VDC, 350W (typ.), power cables included |