ND7000 ND SatCom SKYWAN IDU 7000 MF-TDMA Modem w/IP routing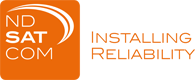 • Turbo-Φ Channel Coding
• 8PSK, QPSK and BPSK modulation with wide range of code rates and symbol rates
• High performance with modem data rates up to 10 Mbit/s
• Integrated IP Router with priority forwarding based on QoS, robust header compression
• Integrated Frame Relay Switch with 4 serial interfaces
• Geographical redundancy with seamless switchover
• COTM support with Doppler Shift compensation and COTM antenna interface
ND SatCom SKYWAN IDU 7000 MF-TDMA Modem w/IP routing
Summary
The IDU 7000 is an MF-TDMA modem with built-in IP routing, frame relay switching and support for multicast transmissions. It includes the most comprehensive feature set of the SKYWAN remote product family and with the addition of a Frame Plan Generator (FPG), the station can also function in either Master Hub or Backup-Master Hub mode. Each IDU 7000 includes one Ethernet/Fast Ethernet port and up to four serial or Frame Relay ports thus providing a full range of standard IP and legacy interfaces with support for protocols such as V.24, HDLC, X.25 plus analog and digital voice channel capability.
SKYWAN IDU 7000 offers military-grade features and options to meet the growing governmental demand for highly secure and reliable communications. The embedded cryptographic module is compliant to the Federal Information Processing Standard (FIPS) 140-2 Level 3 providing certified encryption algorithms (AES 256) and tamper-evident physical security mechanisms. The SKYWAN IDU 7000 modem is compliant to the Wideband Global SATCOM (WGS) system delivering high signal quality over WGS and com-mercial satellites. SKYWAN combined with the Ranger antenna builds a lightweight, easy deployable terminal configurable for C, X, Ku or Ka-Band whereas the X-Band configuration is XTAR, DCSC & WGS compatible.
SKYWAN FAD – Designed to provide maximum network performance and reliability in low-bandwidth environments, this universal access device reduces network infrastructure costs and simplifies WAN connectivity for mission-critical applications. The voice and data compression technology, prioritization and multiplexing capabilities and the ability to route all traf-fic over a highly efficient cell-relay based protocol, make it the product of choice for converged voice and data applications over satellite. The SKYWAN FAD provides a safe migration path from legacy TDM or Frame Relay net-works to IP-centric networks. It includes support for the latest VoIP (SIP) standards and robust IP/Ethernet QoS.
Key Highlights
Key Features Government & Military
• FIPS 140-2 Level 3 validated Link Encryption
• WGS compliant terminal: SKYWAN with Ranger antenna Key Features

Key Features
• Turbo-Φ Channel Coding
• 8PSK, QPSK and BPSK modulation with wide range of code rates and symbol rates
• High performance with modem data rates up to 10 Mbit/s
• Integrated IP Router with priority forwarding based on QoS, robust header compression
• Integrated Frame Relay Switch with 4 serial interfaces
• Geographical redundancy with seamless switchover
• COTM support with Doppler Shift compensation and COTM antenna interface

Proven solution for:
• Tetra / Tetrapol
• aMaDEUS Booking System
• Satcom on the Move
• ATC environments
• News Contribution Networks
• True single hop mesh / hybrid / star
• Rooftop to Rooftop
• Supports single channel star network
ND SatCom SKYWAN IDU 7000 MF-TDMA Modem w/IP routing
Specifications
 
 
Network Topology
True full mesh / star / hybrid / multi-star
Encoding
Turbo-Φ
Modulation & FEC Code Rates
QPSK: 1/3 / 2/5 / 4/9 / 1/2 / 2/3 / 3/4 / 4/5 / 5/6 / 6/7
 
8PSK: 2/3 / 3/4 / 4/5 / 5/6 / 6/7
 
BPSK: 1/3 / 2/5 / 4/9 / 1/2 / 2/3
Eb / No
2.6 dB at FEC 1/2 with BER 10-7
Channel Spacing / Roll-of
1.2 , 1.4 / 0.2 , 0.4
Modem Symbol Rate
100 KBaud – 6 MBaud, variable in 1 KBaud increments
User Data Rate
64 Kbit/s – 10 Mbit/s
Satellite Channel Access Type
MF-TDMA / datarate hopping / multiple carrier hopping / transponder hopping / cross-strapping / Doppler Shift compensation / optional WGS compliant modem
Access Scheme
Bandwidth-on-Demand / real-time / non-real-time / guaranteed throughput / QoS classes
Security
Optional FIPS 140-2 Level 3 validated (2) LINK ENCRYPTION with AES 256 Encryption and internal Key Management
| | |
| --- | --- |
| INTERFACES |   |
|   |   |
| Serial Interfaces | 4 serial ports, each with individual clock & up to 6144 Kbit/s X.21 / RS-449 / RS-232C and V.35 on each port selectable |
| Protocol | UNI/NNI / Isochronous / Transparent |
| LAN Interface | One 10/100 Base-T Ethernet RJ-45 port |
| Protocol | Dynamic Routing / OSPF / Static Routing / Multicast / Load Balancing / TCP / TCP-Acceleration / UDP / IGMP / VoIP / QoS / Diffserv / Robust Header Compression / Platinum Dynamic QoS for VoIP and Live Video |
| Modulator | L-Band 950 – 1750 MHz / 0… - 30 dBm / SMA female connector, 50ohm |
| Demodulator | L-Band 950 – 1750 MHz / -35…-75 dBm / SMA female connector, 50ohm |
| 10 MHz reference signal | Configurable on Tx / Rx / reference clock output, SMA female connector, 50ohm |
| | |
| --- | --- |
| SKYWAN FAD * |   |
|   |   |
| Type / System Overview | Universal access device combining the functionality of a data router, a multiplexer and a voice gateway in a single device, enabling users to create converged networks and transport any type of traffic over satellite or terrestrial links. |
| Interfaces | Analog & Digital with standard protocols, allows interconnection to any PABX or PSTN. Serial: X25, Frame Relay, HDLC PTT: support for analog & digital VHF systems, signaling either in-band / V24 / E&M |
| | |
| --- | --- |
| RADIOS * |   |
| RFT 5000 | C-Band 20 / 40 / 60 W |
|   | Ku-Band 10 / 20 / 35 W |
|   | Extended Ku-Band 20 / 30 W |
| Others | Radios with L-Band interface, LNBs with external clock reference from SKYWAN |
NETWORK MANAGEMENT

 
 

NMS Platform

SKYWAN NMS
NMS Architecture
Central station, additional stations may be used for monitoring
IDU Management Interfaces
Remote access with in-band management (from central NMS station over satellite) via SNMP
Remote access with dial-in (via public telephone network with attached modem)
Local access via integrated console port EIA-232
Lineup Manager
Easy tool to commission remote SKYWAN station via local console port or Ethernet port
Security NMS & Station
Authentication of NMS station / dedicated IP Network for management / authentication of remote station
MECHANICAL / ENVIRONMENTAL
 
 
 
Dimensions (H x W x D)
174 mm (4 RU) x 483 mm (19") x 470 mm
Weight

11.2 kg (fully equipped with 5 cards)

Input Power / Power Consumption
90 – 264 VAC , 50 / 60 Hz , 160 VA nominal (fully equipped with 5 cards)
Operating Temperature / Humidity
+5 °C to +40 °C, 5% - 85 % non-condensing
Altitude
Up to 3000 m above sea level, optional up to 5000 m
Compliance
Fully CE compliant with RoHS and REACH
Radio Standards
EN 301 428 Ku-Band VSAT
EN 301 443 C-Band VSAT
Safety
EN 60950 Safety IT Equipment
Emission Standards
EN 61000-6-3 Generic Emission Standard
EN 55022 Emission IT Class A
EN 61000-3-2 Harmonics
EN 61000-3-3 Flicker
Immunity Standard
EN 61000-6-1 Generic Immunity Standard
EN 55024 Immunity IT