NovelSat NS1000 Modulator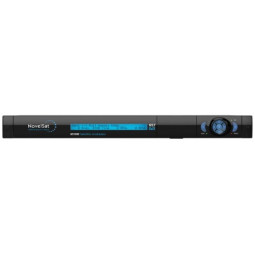 NovelSat NS1000 Modulator - A New Standard for SatelliteA New Standard for Satellite Transmission
NovelSat's NS1000 Modulator delivers industry-leading data rates — up to 358Mbits/sec using 70Msym/sec transmission. NS1000 offers:

Lowest bandwidth consumption – lowering satellite bandwidth usage by 20% and more
Highest throughput – using existing bandwidth
Highest data rate - raising maximum transmitted data rate by over 100%
Smallest dish/HPA size – using the same data rate
Larger footprint – using the same data rates at remote locations
Product Code: NS1000 Modulator
NS1000 Modulator - A New Standard for Broadcast Satellites.
NovelSat's innovative NS1000 is a state-of-the-art modulator designed forhigh demand satellite transmission. NS1000 is the only system in the marketthat has NS3™ enhancement, delivering significantly higher spectral efficiencycompared to DVB-S2.
The NS3™ system has several marked advantages that set it apart from the competition:
Lower Satellite Bandwidth: Savings of 20% to 78% satellite bandwidth(over available DVB-S2 equipment in the market)
Higher Data Rate: Increases transmitted data rate by over 100% (overavailable DVB-S2 equipment in the market)
Smaller Dish: Reduction of dish size. Achieves the same data rate using asmaller dish
The NS1000 supports high data rates of up to 365Mbps using 70Msps, which enables transmission of one carrier over a 72MHz transponder.

The NS1000 dual-channel option enables any two inputs to be combined simultaneously over one carrier, each with a different modulation scheme using Variable Coding Modulation (VCM), one for each channel. This enables transmission quality that is dependent upon the interface content and the different receivers' locations.

Dual-channel operation also enables the combination of Ethernet streaming and the ASI interface, easing migration to IP streaming while controlling the QoS of each stream.NS3™ achieves a remarkable data rate improvement of over 36% compared to DVB-S2, when working at high SNR links.
Compatible with the innovative NS3™ protocol
DVB-S, DSNG, DVB-S2 (EN300-421, EN301-210, EN302-307) compliant
Data rates of up to 365Mbps
Powerful pre-distortion algorithmfor saturated channels
Dual-channel mode
L-Band output mode 950MHz-1750MHz (optional extended L-Band 950MHz-2150MHz)
IF output mode 50MHz-180MHz (either L-Band or IF)
Monitor output port10MHz reference (In/Out)
Dual ASI input interface
Dual Ethernet 1Gb input interface
ACM support
NS1000 Modulator Specifications
Output Interfaces

L-Band Output

 

Connector

SMA (F) 50 ohm

Frequency range

950-1750MHz (optional up to 2150MHz) in 1Hz steps

Power level

-30/0 dBm in 0.1dB steps

Power accuracy/ temp. stability

±0.5dB/±0.5dB

Return loss

>12 dB

Spurious

-55dBc in band and out of band at max. power

Phase noise

@100Hz -70dBc, @1KHz -80dBc, @10KHz -85dBc,

 

@100KHz -95dBc, @1MHz -100dBc

 
 

IF-Band Output

 

Connector

BNC (F) 75 Ohm

Frequency range

70MHz±20MHz, 140MHz±40MHz in 1Hz steps

Power level

-30/0 dBm in 0.1dB steps

Power accuracy/ temp. stability

±0.5dB/±0.5dB

Return loss

>12 dB

Spurious

-55dBc in band and out of band at max. power

 
 

Monitoring Output

 

Connector

SMA (F) 50 Ohm

Frequency

Identical to L-Band/IF-Band output frequencies

Power level

-40 dBm

Return loss

> 7dB

 
 

10MHz Reference Clock I/O (Optional)

 

Connector

BNC (F) 50 Ohm

Ref. input power level

-3dBm up to +7dBm

Ref. output power level

+7dBm Typical

Waveform

Sine wave
Baseband

DVB-S/DSNG

 

Inner code

BCH

QPSK

1/2, 2/3, 3/4, 5/6, 7/8

8PSK

2/3, 5/6, 8/9

16QAM

3/4, 7/8

Outer Code

Reed Solomon (203, 188, T=8)

Interleaving

(I=12)

Scrambling Frame length

204, 188

 

 

DVB-S2

 

Inner code

BCH

Outer code

LDPC

Code rates and modulation:

 

QPSK

1/4, 1/3, 2/5, 1/2, 3/5, 2/3, 3/4, 4/5, 5/6, 8/9, 9/10

8PSK

3/5, 2/3, 3/4, 5/6, 8/9, 9/10

16APSK

2/3, 3/4, 4/5, 5/6, 8/9, 9/10

32APSK

3/4, 4/5, 5/6, 8/9, 9/10

Frame length

64800, 16200

Baseband ROF

SRRC 20%, 25%, 35%

 
 

NS3™

 

Inner code

BCH

Outer code

LDPC

Modulations

QPSK, 8PSK, 16APSK, 32APSK, 64APSK

Frame length

64800, 16200

Baseband ROF

"SRRC like"  5%, 10%, 15%, 20%, 25%, 35%
Input Interfaces

ASI Input

 

2 ASI interfaces that can function in parallel

 

Connector

BNC female with 75 Ohm coax

Return loss (22-270 MHz)

18-20 dB

Sensitivity

230 mVpp

Max. input

950 mVpp

 
 
10 MHz Clock
 
Stability

±1.5 ppm over 0degC to 50degC

Aging
±1.0 ppm/year
 
 

ASI Output (Loopback)

 

Loopback on each ASI input

 

Connector

BNC female with 75 Ohm coax

Power level

800 mVpp ±10%

 
 
10 MHz Clock – High Stability (Optional)
 
Stability

±10 ppb over 0degC to 70degC

Aging
<± 0.5 ppb/day, <± 75 ppb/year
 
 
Additional Information

Monitor and Control Interfaces

 

SW interfaces

Command line interface

 

Web based graphic user interface

 

SNMP V3

 

Front panel

Serial RS232/RS485 interface

Female 9-Pin D-Sub connector

Ethernet 10/100

BaseT interface to monitor and control the modulator

Alarm interface

Female 9-Pin D-Sub connector

 
 

Optional Interfaces

Dual Ethernet 10/100/1G

 

 

Physical

 

Weight

3.5 Kg (7.7 pounds)

Size

19" W x 18" D x 1.75" / 48.3 x 45.7 x 4.45 cm

 

 

Environmental

 

Prime power

100-240 VAC, 50-60Hz, 30 Watts Max.

Operating temp.

0 to 50°C

Operating humidity

Up to 85% Non-Condensing

Storage temp.

-40°C to 70°C

Storage humidity

Up to 95% Non-Condensing