NovelSat NS2000 Demodulator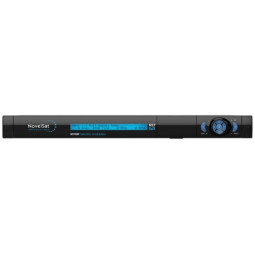 NovelSat NS2000 Demodulator - A New Standard for Satellite
NovelSat's NS2000 Demodulator redefines industry data rate limits, delivering up to 358Mbits/sec using 70Msym/sec transmission. NS2000 offers:

Lowest bandwidth consumption – lowering satellite bandwidth usage by 20% and more
Highest throughput – using existing bandwidth
Highest data rate - raising maximum transmitted data rate by over 100%
Smallest dish/HPA size – using the same data rate
Larger footprint – using the same data rates at remote locations
Product Code: NovelSat NS2000 Demodulator
NovelSat NS2000 Demodulator
The NS2000 is a state-of-the-art demodulator that supports all common modulation methods: DVB-S, DVB-S2, DVB-SNG, and the innovative NS3™. A notably robust receiver, the NS2000 features groundbreaking signal processing and error correction, enhancing impairment resistance. It offers dual channel support and output for any two stream types - 2XASI, 2XGigabit and ASI & Gigabit.
The NS2000 supports exceptionally high data rates, reaching up to 358Mbps using 70Msps in NS3 mode of operation, and is the only product that supports transmission of one carrier over a 72MHz transponder.
NS2000's dual channel option diverts a stream to either of the two interfaces on the board, or any combination thereof - enabling transmission quality that is solely dependent upon interface content. Dual channel operation also enables the combination of Ethernet Stream and ASI, easing migration to Ethernet streaming.
NovelSat NS3™ achieves unprecedented ROI. A prominent provider of cellular backhaul services reported a full return on investment for their data network within just 6 weeks, over 72 MHz, after fully replacing their existing equipment. In the case of a new installation, ROI can be measured in a matter of days!

Compatible with the innovative
NS3™ protocol
DVB-S2 (EN302-307) compliant
Data rate up to 365Mbps
DDC™ - Dynamic Distortion
Compensator, highly effective in non linear channels
Dual-channel mode
Extended L-Band 950MHz-2150MHz
IF output mode 50MHz-180MHz
10MHz reference In/Out
Dual ASI output interface
Dual Ethernet 1Gb output interface
ACM mode
NovelSat NS2000 Demodulator Specifications
Baseband DVB-S2

Inner code

BCH

Outer code

LDPC

Code rates and modulation:

 

QPSK

1/4, 1/3, 2/5, 1/2, 3/5, 2/3, 3/4, 4/5, 5/6, 8/9, 9/10

8PSK

3/5, 2/3, 3/4, 5/6, 8/9, 9/10

16APSK

2/3, 3/4, 4/5, 5/6, 8/9, 9/10

32APSK

3/4, 4/5, 5/6, 8/9, 9/10

Frame length

64800, 16200

Baseband ROF

SRRC 20%,25%,35%
Baseband NS3™

Inner code

BCH

Outer code

LDPC

Modulations

QPSK, 8PSK, 16APSK, 32APSK, 64APSK

Frame length

64800, 16200

Baseband ROF

"SRRT like"  5%, 10%, 15%, 20%, 25%, 35%
Input Interface (IL-Band Input)

Connector

F-Type (F) 75 ohm

Frequency range

950-2150MHz in 1Hz steps

Level

-70+10log(F)/-20 dBm  (F in MBAUD)

Composite power

< -20dBm

Max. input level

0 dBm

Return loss

>10 dB
Input Interface (IF-Band Input)

Connector

BNC (F) 75 Ohm

Frequency range

70MHz±20MHz, 140MHz±40MHz in 1Hz steps

Signal level

-70+10log(F)/-20 dBm  (F in MBAUD)

Composite power

< -20dBm

Max. input level

0 dBm

Return loss

>10 dB
LNB Power Control

10MHz Reference Clock I/O (Optional)

 

 

 

 

Voltage

11.5-14 V (Vert. Pol.)

Connector

BNC (F) 50 Ohm

 
16-19V (Horiz. Pol.)

Ref. input power level

-3dBm up to
+7dBm (Default)

Band select

22KHz ±4KHz

 
 

Max. current

350mA

Ref. output power level

+7dBm

 

 

Waveform

Sine wave
ASI Output

2 ASI interfaces that can function in parallel Connector

BNC (F) with 75 Ohm coax

 

 

10 MHz Clock
 

Stability

±1.5 ppm over 0degC to 50degC

Aging

±1.0 ppm/year

 
 
10 MHz Clock – High Stability (Optional)
 

Stability

±10 ppb over 0degC to 70degC

Aging

<± 0.5 ppb/day

 

<± 75 ppb/year
Additional Information

Monitor and Control Interfaces




SW interfaces

Command line interface

 

Web based graphic user interface

 

SNMP V3

 

Front panel

Serial RS232/RS485

Female 9-Pin D-Sub connector

Ethernet 10/100

BaseT interface to monitor and control the modulator

Alarm interface

Female 9-Pin D-Sub connector

 
 

Optional Interfaces

Dual Ethernet 10/100/1G

 

 

Physical

 

Weight

3.5 Kg (7.7 pounds)

Size

19" W x 18" D x 1.75" H / 48.3 x 45.7 x 4.45 cm

 

 

Environmental

 

Prime power

100-240 VAC, 50-60Hz, 45 Watts Maximum

Operating temp.

0 to 50°C

Storage temp.

-40°C to 70°C

Operating humidity

Up to 85% Non-Condensing

Storage humidity

Up to 95% Non-Condensing