Romantis UHP-1000 UNIVERSAL SATELLITE ROUTER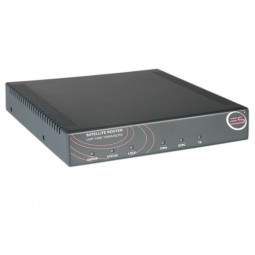 UHP-1000  UNIVERSAL SATELLITE ROUTER
* Various modes of operation and topologies: SCPC,TDM/SCPC, TDM/TDMA, Half Mesh, Full Mesh
* First DVB-S2 VSAT technology with bandwidth-efficient LDPC coding in TDMA channel
* Innovative TDMA protocol with proven efficiency of 96% in comparison with SCPC channels
* Ultra-low latency VSAT system with round-trip delay about 570 ms for TDMA mode of operations
* Fully operational  network in minimal configuration requires just 120 kHz of satellite bandwidth
*Support of VLAN, multi-level QoS, codec-independent handling of real-time traffic                                                                                                                                                       *Built-in adaptive 500-channel traffic manager specially designed for VSAT applications
* Satellite router is capable of receiving signals from two satellites simultaneously
* Web-based Network Management System allowing operating the network from everywhere
* Fast network startup — network is ready for use in just in a minute upon power-up
* Low power consumption allows using satellite terminals with various alternative power sources
* Compatible with majority of C, Ku and Ka-band RF Systems, supplies power and reference signals
* Easy to install and operate hardware, user-friendly software configuration
Product Code: UHP-1000 UNIVERSAL SATELLITE ROUTER
UNIVERSAL VSAT PLATFORM
UHP satellite routers are essentially a universal solution for   geographically   distributed   VSAT-class   satellite communication networks. UHP routers can be used to organize  simple  point-to-point  channels, "star"-  and "mesh"-topology networks with several hierarchy levels and bandwidth-on-demand capabilities.
UHP  VSAT  platform  is  based  on  many  innovation technologies.   It   was   developed   using   long-term experience in satellite service provisioning. Nowadays electronics achievements made it possible to make VSAT platform compact and assure its efficiency and reach functionality.
UHP networks are based on the newest modulation and coding technologies, ensuring very efficient utilization of a satellite capacity. Inexpensive, highly scalable and very flexible hardware provides the best cost of ownership through all the phases of possible network development.
UHP-1000
UHP-1000 satellite router is a universal and all-sufficient tool to deploy various VSAT networks of any topology and size. UHP satellite router can operate in various modes:
SCPC modem in a pair with another UHP router;
TDM/TDMA HUB of hub-and-spoke networks;
TDM/TDMA Star Terminal;
TDM/TDMA Mesh Terminal;
TDMA Full Mesh station of hub-less network.
Switching  between  the  operation  modes  is  software controlled without need to replace the hardware or even on-site visit.
UHP-1000 SATELLITE ROUTER SPECIFICATIONS

NETWORK
Topology                                                              point-to-point, star, half mesh, full mesh
Carrier modes                                                    SCPC, TDM, TDMA
Scalability                                                            Up to 31 Inroutes per network, up to 7812 terminals per network (252 per Inroute)
SCPC (TDM) CHANNEL
Data Rate                                                              from 250 kbps (250kSps @ QPSK 1/2) up to 86 Mbps (32MSps @ 8PSK 9/10)
                                                                                FEC                               1/2          3/5       2/3        3/4      4/5       5/6       7/8       8/9
Modulation / Coding
                                                                                DVB-S (QPSK)              3.7           -         4.0         4.6      -          5.1        5.8        -
 
Demodulator Performance Eb/N0
                                                                                DVB-S2 (QPSK)            1.0          1.6       2.0        2.4     2.8       2.9         -         3,8
BER <10-8
                                                                                 DVB-S2 (8PSK)             -             3.2       4.0        4.7      -           5.8        -          6.9
QoS                                                                         3-level traffic prioritization, adaptive 500-channels-Traffic Shaper
TDMA CHANNEL
Data Rate                                                              From 133 kbps (100 ksps @ QPSK 1/2) up to 6,5 Mbps (4 Msps @ QPSK 5/6)
Modulation / Coding                                            QPSK, LDPC
Demodulator Performance                                FEC                2/3               5/6
                              -7
Eb/No, BER <10  
                                                                                 Eb /No            4.2                4.8
                                                                                 
QoS                                                                         3-level traffic prioritization, Committed Information Rate (CIR)
ROUTER
Performance                                                         96 Mbps or 28000 pps
Support                                                                  DSCP, end-to-end VLAN, RIP, L2 Bridging, CRTP
Management                                                         WWW, Telnet, SNMP, NMS Configuration Manager
INTERFACES
User LAN port                                                       Ethernet 10/100Base-T, RJ-45
Maintenance console                                         USB, B female
IF Rx                                                                       950-2050 MHz  (LNB DC – 13.5V/18V 0.75A), F type
IF Tx                                                                        950-1550 MHz, –30…- 5 dBm, (LO 10 MHz / +5 dBm, BUC DC – 24V / 2A), F type
Mechanical / Environmental (IDU)
Power                                                                    176-283 VAC, 10 W
Operating temperature                                       0 …+40 C, humidity up to 90%
Size / Weight                                                         147х144х29 mm / 530 g