SMW Versa-Link Transmitter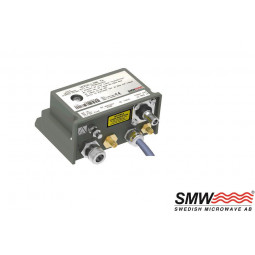 Wideband, extended IF, output PLL BDC for simultaneous reception 2 GHz of the Ka-Band
Features
Custom Frequency ranges within 17.70-22.20 GHz
Wide Ka-Band coverage with 1 LO and 1 output
Standard Ultra Low Phase Noise meets all profiles of DVB-S2X
High P1dB and IP3
Choose between Internal Ref. or External Ref. input models
Compact size and light weight
Wide operating temperature range
Low gain option
Product Code: smw-versa-link-transmitter
High RF- and optical performance
1 x L-band forward channel using a direct modulated DFB 1310 nm laser over a single fiber cable.
Manually adjustable Gain for large antennas and Beacon applications.
Up to 20 km single mode fiber cable distance depending on link budget. Link distance up to 40 km with optional 1550 nm laser.
Free Link budget calculation support available on request.
Fully outdoor proof IP67
Both Transmitter and Receiver unit packaged in a compact outdoor rugged aluminium enclosure.
-40° to +80°C fully operating temp range.
Ideal to mount on the satellite antenna or structure, without using a bulky separate outdoor enclosure.
Highly rugged push on, quick connect, Q-ODC fiber connector on both units.
Versatility
Multi role RF over Fiber link for LNB or BUC simply by swapping location of the receiver/transmitter pair.
Easy DIN-rail mount option for multi-unit, multi channel and VSAT (LNB+BUC) stacking.
Built in 4A (BUC/LNB) Bias-tee and 10MHz ref. diplexer.
Versa-Link Rx receiver is compatible with SMW Fiber output LNBs for cost effective single channel systems
SMW Fiberoptics are compatible with many other manufacturer's corresponding indoor devices
Applications
Single fiber downlink connection from one LNB.
Single fiber uplink connection to one BUC.
Carries any 290 – 2500 MHz (option 50-2750 MHz) RF signal – Satcom, Terrestial TV, GPS, FM etc.
Additional information
| | |
| --- | --- |
| Dimensions | 9. |
| RF frequency | 290-2500 MHz, 10-2500 MHz |
| Optical output | 1310 nm (≤20 km), 1550 nm (≤40km) |
| RF Connector | F, N, SMA, Other |
| DC cable | 15 m, 30 m, Other |
| DC on RF connector | Yes, No, Other |
Drawing