Skyware type 123 class II 1,2m Ku-Band Offset Antenna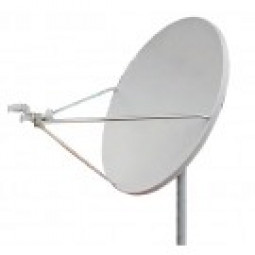 The Skyware Global Type 123 1.2 m Class II RxTx Antenna is a rugged commercial grade product suitable for the most demanding applications.
The reflector is thermoset-molded for strength and surface accuracy. Molded into the rear of the reflector is a network of support ribs which strengthens the antenna and helps to sustain the necessary parabolic shape. The reflector optics feature a long focal length for excellent cross-pol performance.
Product Code: type 123 class II 1.2m Ku-Band Offset Antenna
The heavy gauge steel Az/EI mount secures the antenna to any 73-76 mm (2.88"-3.00") mast and prevents slippage in high winds. A special powder paint process offers excellent protection from weather-related corrosion.
All materials comply with EU directive No. 2002/95/EC (RoHS).
Long focal length optics for low cross-pol performance.
Fine azimuth and elevation adjustments.
Available with Ku-band co—pol or cross—pol feeds.
Galvanized 19 mm (.75") O.D. side feed support legs and 51 mm (2") O.D. lower feed support.
Plated hardware for maximum corrosion resistance.
Class II system designed for typical 2 W and 4 W Ku-band Block Up-Converters (BUCs).