Skyware type 180 Class I 1,8m C or Ku-Band Offset Antenna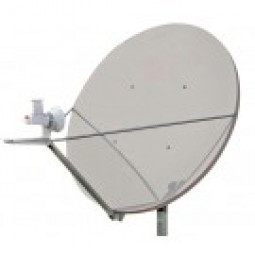 The Skyware Global Type 180TX 1.8 m Class I RxTx Antenna is a rugged commercial grade product suitable for the most demanding applications. The reflector is thermoset-molded for strength and surface accuracy. Molded into the rear of the reflector is a network of support ribs which not only strengthens the antenna, but also helps to sustain the critical parabolic shape necessary for transmit performance.
Product Code: type 180 Class I 1.8m C or Ku-Band Offset Antenna
The Az/EI mount is constructed from heavy-gauge steel to provide a rigid support to the reflector. The Az/EI mount secures the antenna to any 114 mm (4.50") O.D. mast and prevents slippage in high winds. Hot-dip galvanizing is stan­dard for extreme environmental conditions.
All materials comply with EU directive No. 2002/95/EC (RoHS).
One-piece thermoset-molded offset reflector.
Single bolt fine elevation adjustment.
Galvanized 19 mm (.75") O.D. feed support legs
Plated hardware for maximum corrosion resistance.
Available with C-Band or Ku-Band feeds.
Hot dip galvanized Az/EI mount.
Designed for typical 1 W and 2 W Block Up-Converters (BUCs)