AvL 1050-T 1.4m SNG Motorized Tri-Band FlyAway Tripod Antenna X-Band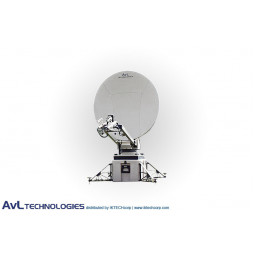 AvL 1050-T 1.4m Military Motorized Tri-Band FlyAway Tripod Antenna 2-port X-band


• Rx/Tx Feed: 2-Port X-Band Military
- Receive: 7.25 - 7.75 GHz
- Transmit: 7.9 - 8.4 GHz
• Airline Checkable Pack-up
• Tripod-Based
• Key Features
- 15 minute set-up
- Zero Backlash AvL Cable Drive
- Auto-Acquisition Controller
Product Code: avl_1050-t_x
AvL 1050-T 1.4m Military Motorized Tri-Band FlyAway Tripod Antenna 2-port X-band
 

Summary

AvL 1050-T 1.4m Military Motorized Tri-Band FlyAway Tripod Antenna 2-port X-band

AvL's 1050FA case-based positioner FlyAway Military antenna systems offer enhanced-wind tolerance with a compact, rugged and portable package. The 1.4m antenna systems pack into two rugged cases to be shipped anywhere, then set up and operational within minutes.   

AvL's FlyAway Military antennas are designed to meet and exceed the highest performance requirements around the world to guarantee both satellite authority compliance and peak in performance, reliability and availability.

Each Flyaway Antenna is priced to include the AvL carbon fiber antenna and auto-acquisition controller for ease of operation. As with all AvL antenna systems, no laptop is necessary to operate the controller, the antennas interface with any modem, RF electronics, or satellite service.

AvL 1050-T 1.4m Military Tripod System feature:
• Commercial airline checkable - packs into two rugged cases
• Enhanced wind tolerance of 45 mph gusting to 60 mph for Ku operation
• 1.4m Segmented AvL Carbon Fiber Reflector
• Rugged AvL Cable Drive Case-Based Positioner
• Case-Based Positioner (AvL or CFE) or Rugged Tripod Mount
• Offset Prime Focus Highly Efficient Optics
• Available in Ku- (precision or mode-match), X- and Ka-band for commercial or military applications; upgradable to L-Band
• Motorized AvL Cable Drive for reliable positioning
• One button auto-acquisition controller
• Interfaces with all types of RF electronics and satellite services 
• MIL-STD-188-164A Compliant
• 15-Minute Setup

While the vast majority of military applications to date have relied on commercial satellite interoperability, especially at Ku-band, AvL is now leading the industry in the delivery of systems that will operate over the next generation of military satellites, including Xtar (X-band) and the new US Army Wideband Global Satellite (WGS) constellation (X- and Ka-band). Most of our military antennas can be offered with upgradability to X- and Ka-bands of operation.

AvL antennas interface easily with all RF systems and are compliant with FCC and Intelsat requirements for 2° spacing as well as optional models for meeting Eutelsat and Asiasat criteria. AvL antennas are also in the certification process for operation over the US Army DSCS and WGS satellites.

 

 
 
 
Technical Specifications Diagram
 
 
Inquire
AvL 1050-T 1.4m Military Motorized Tri-Band FlyAway Tripod Antenna 2-port X-band
MECHANICAL SPECIFICATIONS
 
 
Az/El Drive
Motorized AvL Zero Backlash Cable Drive (Patent Pending)
Polarization Drive System
Motorized Rotation of Feed

Reflector Construction
1.4m Segmented Carbon Fiber
 
 
Axis Travel ▼


Azimuth
±200°
Elevation (reflector boresight)
5° - 100° of reflector boresight from calibrated inclinometer (El range may vary depending upon CFE)
Polarization
±95°
 
 
Az/El Speed: ▼


Slewing/Deploying (typical)
2°/sec Elevation: 1°/sec
Peaking (typical)
0.2°/sec
 
 
Motors
24 VDC Variable Speed, Constant Torque
 
 
Standard Interfaces: ▼


BUC Mounting
Feed boom or behind reflector (additional CFE case or optional case required)
RF
Std. 50 ohm Coax (2) at base, cover flange at feed Tx port
Electrical
30 ft. cable with connectors for controller
 
 
Manual/Emergency Drive
Handcranks for Az and El, Knob on Pol axis
 
 
Transit Configuration (Ku-band): ▼
 
Two rugged, weather-resistant plastic cases, total weight 260 lbs. (typical)
Positioner
27" x 20" x 22", 110 lbs. max, 100 lbs. typical
Outriggers/Feed Boom/Reflector
43" x 28" x 21", 150 lbs. max (Includes Ku or Ka Feed), 140 lbs. typical
Additional Feeds
43" x 28" x 21", 70 lbs typical, dependent on feed options selected
 
 
Set-up Time
Less than 15 minutes.
ENVIRONMENTAL SPECIFICATIONS
 
 
Wind – Survival
80 mph in zenith position

Wind - Operational: ▼


Without Anchoring
30 mph
With Anchoring
30 mph gusting to 40 mph
 
 
Pointing Loss in Wind: ▼


Ku-band
0.1 dB typical, 0.5 dB max
Ka-band
0.3 dB typical, 1.0 dB max
X-band
0.1 dB typical, 0.2 dB max
 
 
Temperature: ▼


Operational
-22° to 125° F (-30° to 52° C)
Survival
-40° to 140° F (-40° to 60° C)
RF / ELECTRICAL SPECIFICATIONS
Receive
Transmit
 
 
 
Feed Type ►
Opt. 2-Port X (Military/WGS) (1.4m Reflector)






Frequency Range (GHz)
7.25 - 7.75
7.9 - 8.4
Polarization Configuration
RHCP or LHCP
Gain (mid-band) @ Horn Interface (dBi)
37.6 dBi (less opt. filter)
38.1 dBi (less opt. filter)
-3dB Beamwidth (mid-band)
2.3°
2.1°
Antenna Noise Temperature (midband)
52° K


Radiation Pattern Compliance
MIL-STD-188-164A
Maximum Feed Transmit (Tx) Power
 
1000 watts per port
VSWR
1.30:1
1.30:1
G/T with 50˚ LNB, midband, clear horizon
17.3 dB/°K with 55ºK LNB
 
Axial Ratio (CP only, within pointing cone )
1.21 dB
2.0 dB
Port-to-Port Isolation – Tx to Rx
115 (includes optional filter)
115 (includes optional filter)
CONTROLLER SPECIFICATIONS: STANDARD
 
 
Controller Type ►
Std. Auto-Acquire with Opt. Ethernet IP Interface

Standard Feature ▼
 
Fully-automatic satellite acquisition, with automatic azimuth, elevation and cross-polarization peaking; includes on-board, one-button deploy/acquire interface for pre-configured systems; includes on-board GPS, electronic compass, level sensors and auto-compensation; customer-configurable satellite list. Note: Beacon Receiver or Modem as acquisition signal source may be required for non-commercial satellites

 
 
Integration
Embedded w/ Handheld, incl. Shelf-Mount P/S (optional 1RU w/ front-panel keypad + integral P/S)
User Interface
Menu-driven display w/ keypad
Input Power
115/230 VAC (at rack); up to 200W
Software Upgrades/Options
Inclined orbit tracking (using step-track or TLE track); automatic band sensing
CONTROLLER SPECIFICATIONS: OPTIONAL
 
 
Controller Type ►
Opt. Enhanced Auto-Acquire with Ethernet IP Interface

Standard Feature ▼
 
Fully-automatic satellite acquisition, with automatic azimuth, elevation and cross-polarization peaking; includes on-board, one-button deploy/acquire interface for pre-configured systems; includes on-board GPS, electronic compass, level sensors and auto-compensation; customer-configurable satellite list. Note: Beacon Receiver or Modem as acquisition signal source may be required for non-commercial satellites

 
 
Integration
Embedded w/ Ethernet IP Interface (P/S optional) (optional rack-mount P/S available)
User Interface
Intelligent/simple GUI for on-board or remote CFE laptop
Input Power
28V DC (at antenna positioner); optional 115/230 VAC rack-mount power supply; up to 200W
Software Upgrades/Options
Inclined orbit tracking (using step-track, memory track, or TLE track); automatic band sensing
Available Options, Upgrades & Services
Optional:
• Standard Configuration: Case-Based
• Optional Configuration: Tripod
• BUC/HPA mounting
• Stabilization leg options
• Waveguide interconnect options
• Beacon Receiver and Inclined Orbit Tracking Mode
• Ku-band Mode Matched Feed (Eutelsat)
• Ku-band Co-pol Kit
• DBS, Commercial Ka Feeds (future)


Technical Specifications Diagram
Inquire